Paul du Plessis Attorneys
In-depth legal knowledge
Personal care and empathy
Highest chances of success
In-page navigation
---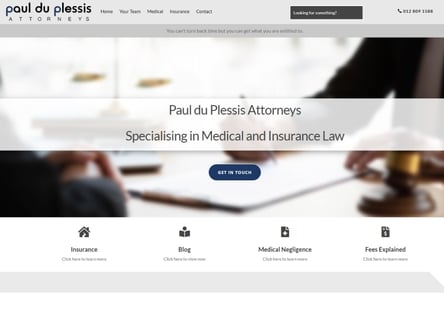 Author Paul du Plessis Attorneys. Screenshot of Paul du Plessis Attorneys website.


[Accessed March 31, 2023]
Paul du Plessis - High quality legal services
The combination of legal expertise, personal care and empathy make Paul du Plessis Attorneys unique provider of medic-legal services.
We help people who have suffered injury because of the wrongful act of another party to receive justice and the compensation which they rightfully deserve.
We have the required in-depth knowledge in the legal and medical fields to provide a service of high quality which is geared towards achieving success with personal injury claims. We are lawyers, but we are also people and parents.
We have your best interest at heart
We understand that you want only the best for the people that you love. That is why we adopt a highly personal approach to assist you with recovering both physically and financially when you make a claim with us.
We combine professionalism with personal attitude and dedication. We are determined and focused. We have expertise and kindness. We work with clients from every corner of South Africa. When you come to us, we will ensure that your claim gets the highest chances of success.
Receive compensation for medical expenses
Accidents involving personal injury which results from the wrongful act of another party should not be left without consequences for the party at fault. The victims can initiate personal injury claims and receive compensation for medical expenses, lost income and pain and suffering.
At Paul du Plessis Attorneys, we have over 18 years of experience in such claims. We work with accident victims and their families to provide top-quality legal services at a fair price.
No win - no fee
We have a team of experienced lawyers and medical specialists who work together to develop effective strategies for winning based on solid evidence and expertise.
We are proud of our achievements. Our clients receive appropriate personal injury or third party compensation awards timely. We cover all costs related to the investigation of claims.
We work on "no win, no fee" basis with people from all over South Africa. You can expect to receive a service based on integrity, determination, knowledge and skills.
Paul du Plessis Attorneys – Personal Injury Claim
Claim Type

Personal Injury Claims
Benefits of Paul du Plessis Attorneys
PERSONAL Injury Claims
ROAD Accident Fund Claims
---
Paul du Plessis Attorneys -
Paul du Plessis Attorneys have been assisting clients in South Africa with their personal injury and other legal cases for many many years. With our passionate team of expert's attorneys on board our crew, we know we have the ability to assist you with any legal requirements you may have.
At the end of the day, if you were involved in a personal injury, that has changed your life, for the worse, you may have a case to work off.
Personal injuries are often those that have been inflicted upon an innocent person, through a violent act, or through criminal intent in the case of criminal injury claims. The injury could have caused a major impact on your life, through emotional trauma, which may affect your normal life going forward.
There are a number of factors to consider
If you have been a victim of such an incident. Although reliving the trauma of your ordeal can be extremely difficult, the best way to get your case off the ground is to contact us as soon as possible, so we can go through the incident in detail, and assess what happened, in a case.
Your case may take a while to process, through the court and legal processes which are standard procedure, however, you can also benefit from personal injury compensation for medical and emotional costs involved in the after effect of such a terrible situation.
We are highly sensitive to our client's situations, especially when it comes to brutal incidents such as these, and will stand by you through every step of the process. We are here to fight on your behalf, and get you the financial compensation to cover the financial damages involved in such a tragedy.
Contact us today by email or via telephone, and we will appoint an expert attorney with the knowledge and experience to handle your case. Get a professional and passionate team of legal professionals, to get you through the tough time. We work on a no win no fee basis, which also alleviates the costs involved in the case at hand.
Paul du Plessis Attorneys Contact
Contact Number
E-Mail
Website
Physical Address
Unit 29 Lombardy business park, Graham road corner Cole road

Silverlakes

Pretoria

0084

South Africa