Ronald Bobroff & Partners
40+ Years' legal service
Assistance without delay
Professional and honest
In-page navigation
---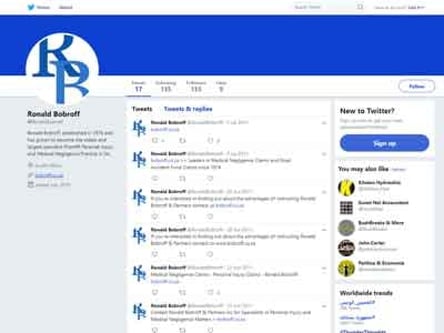 Author Ronald Bobroff & Partners. Screenshot of Ronald Bobroff & Partners website.


[Accessed April 5, 2023]
Ronald Bobroff & Partners Inc - Expert legal advice
For more than four decades, Ronald Bobroff & Partners Inc. has been offering legal services to South Africans who had suffered personal injury due to an accident or medical negligence of malpractice.
Our legal firm was established in 1974 and has earned a leading position in the field of personal injury claims.
Our founder, Ronald Bobroff, is one of the most esteemed attorneys in our field of specialisation.
Just like our firm, he has a long record of achievements including the presidency of The Law Society.
We have some of the best lawyers on our team
This enables us to work with great productivity and to use innovative and creative strategies which lead to successful outcomes.
We work with renowned medical experts on all of our personal injury or third party claims. We focus solely on the representation of accident victims. Our services are based on integrity and full commitment to achieving the goals of our clients.
Get compensated for damages
If the personal injury has been caused by another party due to negligence or deliberately, the victim of the accident has the right to initiate a claim for compensation. The compensation amount can cover the victim's medical expenses plus lost income and other types of damages.
We, at Ronald Bobroff & Partners Inc., have long-term experience in assisting accident victims with obtaining compensation with a settlement or with a decision of the court of law. We have narrow specialisation.
We work solely with accident victims
Our service is based on professionalism and integrity. We apply our skills and knowledge with passion and creativity. Most personal injury cases are not easy to resolve.
That is why we advise people who have suffered personal injury and their families to reach for assistance without delay.
We will conduct a thorough investigation of your case to determine the legal grounds for a personal injury claim and take the necessary action to help you receive compensation.
Ronald Bobroff & Partners – Personal Injury Claim
Claim Type

Personal Injury Claims
Benefits of Ronald Bobroff & Partners
MEDICAL Negligence
ROAD Accident Fund
MOTOR Vehicle Accidents
MOTORCYCLE Accidents
LOSS Of Support Claims
SLIP And Fall Claims
DOG Bite Claims
PUBLIC Liability Claims
PRODUCT Liability Claims
BOATING & Rail Accidents
PERSONAL \ Injury
DIVORCE & Family Law Matters
---
Ronald Bobroff & Partners Inc - We build winning cases
Ronald Bobroff & Partners Inc. are amongst some of the most experienced law firms in South Africa.
We comprise of a team of experienced attorneys who understand how all legal cases are conducted. We know the processes, time frames and what is needed to build a winning case on behalf of our clients.
Personal Injury cases can be long and complex
In cases including incidents towards minors, can be highly stressful, because of the long-term damages that could have been inflicted, can dig deep into your pockets when it comes to medical bills and medical care. Because we deal with these cases on a regular basis, we do our very best to ensure that we can speed up the process as best we can for our clients.
Personal injury cases are very diverse. They come in all forms of injuries, which can include criminal incidents, where the innocent victim is injured or hurt due to the malicious act of another person.
This kind of injury is one that could have been avoided or was carried out with intent and may result in a criminal injury claim. A case like this would require a police report as well as an investigation into the culprit. We ask our clients to contact us as soon as possible, to avoid any delays and while the information and proof are still fresh in one's mind, as well as on paper.
We take personal injury cases very seriously
Clients who have been involved in such a traumatic experience can undergo medical, surgical and emotional treatments, which are expensive. You may also have a long-term loss of income if you are unable to carry on working as a result of your injuries.
With a number of factors to include in your personal injury claim, we will put together the information provided to us to make your case worth fighting for. Where extra help is needed, such as investigations and incident experts that recreate the crime, we will help coordinate this on your behalf.
Ronald Bobroff & Partners Contact
Contact Number
E-Mail
Website
Physical Address
37 Ashford Road

Parkwood

Johannesburg

2193

South Africa
---
Postal Address
P O Box 1170Parklands, Johannesburg, 2121, South Africa