History of success
Determined and hardworking
Positive outcome
In-page navigation
---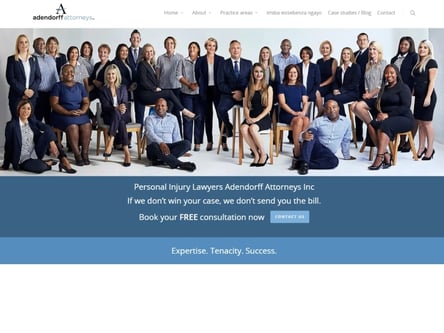 Author Adendorff Attorneys. Screenshot of Adendorff Attorneys website.


[Accessed March 31, 2023]
Adendorff Attorneys - A long history of success
At Adendorff Attorneys we have a long history of successful TBI, head and brain injury claims. Our outstanding track record has made the legal firm a service provider of choice for many personal injury victims in South Africa.
We are specialists in personal injury claims and road accident claims but we are able to help clients with any legal problems.
Our team is determined and hard-working attorneys who are passionate about helping clients fight for their rights. We owe our success to our achievements and long lasting relationships we build with our clients.
A network of specialists on your side
We have won many complicated cases throughout the years and our clients have received high personal injury compensation. We are proud of the fact that we serve not only local people but also foreign nationals involved in an accident within South Africa.
We work with a network of local specialist and medical experts to provide the best service to our clients. We provide effective and dedicated service and attention to detail in each case.
Specialists in personal injury law
As specialists in personal injury law, we, at Adendorff Attorneys, have the expertise and extensive knowledge to help our clients win their cases and get compensated.
The types of brain injuries which people can suffer range from concussion to brain haemorrhage and skull fracture and many more.
If the injury is a result of an accident such as vehicle accident, medical malpractice or assault, the party responsible for it can be held accountable and pay head injury compensation to the victim and their family.
Legal assistance when you need it most
We aim to ensure that the accident victims and their families who require legal assistance achieve the most positive outcome in their case. We know how to prepare your case in an effective manner to help win your case.
After you make a claim we will begin by running the full investigation, looking at the relevant documentation and evidence.
Then we will implement a carefully devised strategy for achieving the best possible outcome.
Adendorff Attorneys – Brain Injury Claim
Claim Type

Brain Injury Claims
Benefits of Adendorff Attorneys
PERSONAL Injury Claims
TRAIN Accidents
MEDICAL Negligence / Birth Injuries
SLIP And Fall Accidents
POLICE Unlawful Arrest / Detention & Assault
PRODUCT Liability / Defective Products
DOG Bites
BURN Injuries
SPINAL Cord Injuries
HEAD And Brain Injuries
---
Adendorff Attorneys - superior experience in personal injury claims
Adendorff Attorneys have a vast number of years and experience in assisting clients with personal injury claims, as well as brain injury claims, that can have a major effect on your life.
Any brain injury can have a long-term effect with a number of hospital and doctor visits that can be costly, and emotionally challenging at times. We don't take these cases lightly.
We understand the consequences and emotional trauma caused by any personal injury which wasn't your fault or was caused intentionally by a third party.
Brain injury claims
Brain injuries are usually the outcome of a forceful knock to the head. There are a number of actions that can cause this injury. The damages from this kind of injury can often lead to seizures, loss of eyesight, tremors and unfortunately, brain damage.
If you are a victim of such an injury, where you have been injured by someone else intentionally, contact our team today and let us make a case in court on your behalf. From your initial consultation with us, we can establish the severity of the injury and whether or not you can make a TBI claim.
Get the relevant document ready
We will need as much information as possible to get our facts in place for your case. Doctor notes, photos, x-rays and any medical bills you have had to pay can all help towards making your case acceptable for possible head injury compensation.
We will assess and analyse the extent of the damage, as well as the circumstances, and will advise you on what further steps we can take. We need to bear in mind that an obvious outcome of the incident not being your fault can make the case stand in court.
We take these cases very seriously and will do whatever we can to make the journey as painless and short as possible, however, sometimes these cases can take a while to be concluded.
We will be with you throughout this time and will keep communication with you open at all times. Take the first step by contacting us today. Don't wait until your injury takes an unfortunate turn and it's too late to get what compensation you deserve.
Adendorff Attorneys Contact
Contact Number
E-Mail
Website
Physical Address
2nd Floor Tyger Valley Chambers Three, 27 Willie van Schoor Drive (Durban Road)

Belville

Cape Town

7536

South Africa