Effective solutions
Flexible and creative
Individual approach
In-page navigation
---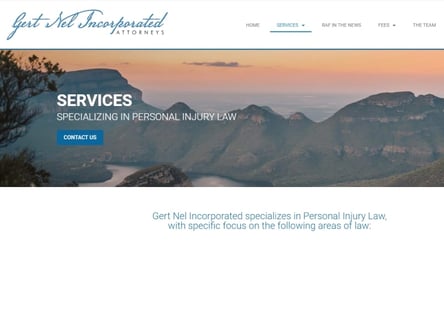 Author Gert Nel Attorneys. Screenshot of Gert Nel Attorneys website.


[Accessed March 31, 2023]
Gert Nel Attorneys - an effective approach to personal injury law
The modern and effective approach to the practice of law exercised by Gert Nel Attorneys is among the main reasons why our firm is among the leaders in personal injury law.
Our strategies are based on extensive legal knowledge and excellent negotiation and litigation skills. We are here to help you pursue justice and the personal injury compensation you deserve.
We get results
We are highly flexible and creative. With us, you will get effective solutions even in the most complex of cases. We have expert knowledge in various types of claims from medical negligence and malpractice claims to public liability claims. Our success gives us confidence that we can win ever more complicated cases.
We are dedicated to each case
Our team includes two lawyers, three candidate attorneys and four professional assistants. We combine complete professionalism with a friendly attitude. We work with great dedication to each and every case to achieve the best outcome for the client. We will keep you up to date with the development of your brain injury claim. We build lasting partnerships.
We approach each case individually
The legal practice of Gert Nel Attorneys has extensive experience and expertise in medical negligence claims including brain injury claims.
We have won millions of Rands in claims for our clients, we have served clients with simple cases up to the most complex. We approach each case individually. We combine professionalism with compassion to help our clients get the most positive outcome.
We conduct a careful investigation
Most compensation claims in the field of medical negligence and malpractice law have a high degree of complexity. We strive to ensure that our clients feel confident about their claim.
We conduct a thorough and careful investigation to confirm that we have everything necessary for the building of a solid case.
Get the compensation you deserve
As soon as we have validated your claim, we will produce and implement a strategy for achieving fair head injury compensation. We strive to work in an efficient and time-efficient manner for the reaching of a settlement.
Gert Nel Attorneys – Brain Injury Claim
Claim Type

Brain Injury Claims
Benefits of Gert Nel Attorneys
BRAIN Injury Claims
ROAD Accident Fund Claims
PUBLIC Liability Claims
DOG Bite Claims
MEDICAL Negligence
MEDICO Legal Recoveries
---
Gert Nel Attorneys - Get the payout you deserve
Gert Nel Attorneys understand personal injuries, with our years of experience backing up our success rate in aiding our clients with the compensation they deserve, you can count on us to fight your case.
Personal injuries come in all forms of injuries. The most severe cases being brain injuries. These cases can be the most traumatic, and often emotionally scarring. The effects of a brain injury, caused by a head injury, can leave the victim with possible brain damage that is long-term and could require a lengthy hospital stay. These cases warrant a traumatic brain injury claim and we can assist.
We build a case on your behalf
The medical bills, follow up and repercussions after the injury can have an overwhelming effect on the victim and their family. To get started with your case, we need to prove the incident was caused at no fault of yours.
We need to provide evidence showing that you were the victim. In doing so, we need to have an initial consultation with you or your close family member, to get all the facts, photos, names, dates, medical documentation and whatever else you can provide, in order for us to put a story and a case together. We will analyse and assess your injury and the present situation, to make a personal, head or brain injury claim on your behalf.
Contact us
We cannot commit to a time frame until we have everything we need. The sooner we get started, with you, the better our chances are of making your case stand in court. We do understand how difficult this time can be for you.
We are here to assist you through the process, to ensure that you get the best legal team on your side, to back you up, and fight on your behalf. Being a victim in the situation gives you the front end of getting a winning case underway.
Once we prove that the incident could have been stopped, or not have happened at all, we know we are on the right road for your best outcome. Don't waste any time, contact us today, and let us get started with the compiling of a winning case on your behalf.
Gert Nel Attorneys Contact
Contact Number
E-Mail
Website
Physical Address
1235 Cobham Road

Queenswood

Pretoria

0186

South Africa
---
Postal Address
PO Box 11614, Queenswood, 0186, South Africa
Opening Hours
Monday

08:00 – 16:30

Tuesday

08:00 – 16:30

Wednesday

08:00 – 16:30

Thursday

08:00 – 16:30

Friday

08:00 – 16:30

Saturday

– CLOSED

Sunday

– CLOSED