High level of expertise
Quality advice
Full commitment
In-page navigation
---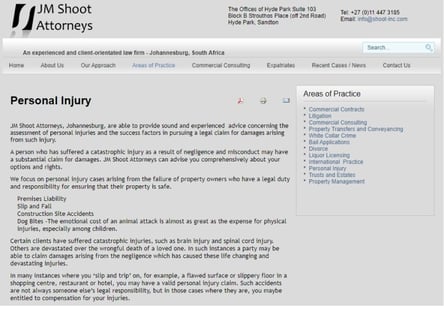 Author JM Shoot Attorneys. Screenshot of JM Shoot Attorneys website.


[Accessed March 31, 2023]
JM Shoot Attorneys - the highest level of expertise and long-term experience
At JM Shoot Attorneys, we have always been a popular choice to the large law firms. We offer personal attention combined with a high level of expertise and long-term experience to ensure a positive outcome for your brain injury claim.
Our clients can benefit from a personal approach and easy access to our legal team. We give a service that is of high quality and we combine this with an extensive knowledge and specialist skills.
Our company goal
Our main goal is to provide legal solutions via our legal experts to the individuals and organisations that we work for. We provide legal advice and representation to our clients. We strive to achieve the best solutions for every legal matter.
Our work is based on a high level of dedication and this is one of the major factors for our success. We can provide professional legal assistance in any law field.
Some of our core practice areas include litigation, personal injury claims, divorce and liquor licensing. We have an international practice that serves clients nationwide.
Full commitment and personal attention
If you have been in an accident or sustained an injury due to the negligence of another party, you can contact us to help you claim for compensation.
At JM Shoot Attorneys, we can provide full legal assistance with the lodging, negotiation and litigation of a claim.
The compensation typically covers medical bills, lost income and other personal damages.
We are professional and efficient
We have many years of experience in the personal injury law. We can handle brain injury claims and other personal injury claims with dedication and high efficiency.
When you come to us for consultation, we will advise you on the merits of your claim and determine whether valid. If your claim is valid, we will lodge a claim against the responsible party.
You can expect full commitment and great personal attention from our side.
JM Shoot Attorneys – Brain Injury Claim
Claim Type

Brain Injury Claims
Benefits of JM Shoot Attorneys
Commercial Contracts
Brain Injury Claims
Property Transfers And Conveyancing
Personal Injury
Trusts And Estates
---
JM Shoot Attorneys - Expert legal services
JM Shoot Attorneys are a Johannesburg based law firm, with extensive years' experience in handling personal injury cases. Personal injuries come to us in a number of varieties, with the most invasive and extensive injury being brain injury claims.
These kinds of injuries can be caused by a number of acts, which in the cases we handle, are usually through a third party. If you feel you have been the victim of such an injury, contact one of our legal representatives today, and let us set up an initial appointment, to go over your potential case.
We will fight for your rights
To get started, we would need you to provide as much information as possible, surrounding the incident as well as the outcome (medical notes, medical bills, incident reports, and any other information we can use). This will allow us to distinguish and analyse the situation at hand, and see if we have a case to work on.
Cases that occur through negligence, from an assault, or through a situation that was avoidable, and was not your fault, have a starting point to a good case. As with any legal case, the proof is your best foot forward, so the more evidence and information you can provide us with, the better for you.
We understand that brain injuries can result in long-term damages, hospital stays, and sometimes, the loss of income, due to being unable to carry on with work or normal life as you were able to in the past. There are underlying and long-term effects that will change your life, and coming to terms with the emotional side of this is not easy.
We are here to assist you to get through this time, by taking your case to the highest legal capabilities that we can. We will do our best to ensure you are compensated for the outcome of this malicious incident, and help you get back on track with life again.
Contact us
Contact us today, let us help you determine if you have a head injury claim or not. Simply email us at info@shoot-inc.com and one of our experienced legal team members will be in contact with you shortly.
JM Shoot Attorneys Contact
Contact Number
E-Mail
Website
Physical Address
The Offices of Hyde Park Suite 103 Block B Strouthos Place (off 2nd Road) Hyde Park

Sandton

Gauteng

2193

South Africa