Michael de Broglio Attorneys
Long list of success
Tough and determined
Positive outcome
In-page navigation
---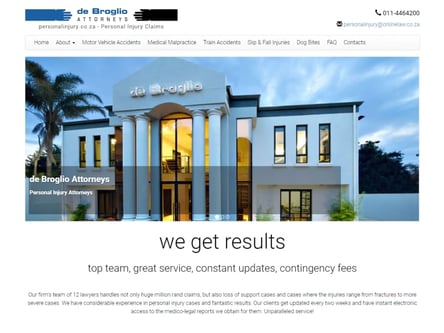 Author Michael de Broglio Attorneys. Screenshot of Michael de Broglio Attorneys website.


[Accessed March 31, 2023]
Michael de Broglio Attorneys - We combine innovation with tradition
At Michael de Broglio Attorneys, we have won compensation awards for millions of rand for victims and we are proud of our long list of successful personal injury claims.
We have 12 experienced lawyers on our team who combines innovation with tradition in a highly effective way to achieve the most positive outcome for our clients.
We are fully equipped to handle any case
We handle a wide variety of head and brain injury claims with different levels of complexity. We are fully equipped to overcome any legal challenges.
We have direct access to specialists in the medical field who can give us expert testimonials. We deliver positive results and this is what matters the most to our clients and their families.
Advice and support when you need it
We believe in the personal approach and give dedication to each client. For this, we provide fortnightly reports on the development of the case plus direct electronic access to the medico-legal reports, keeping you informed at all times. We are always there to provide advice and support to our clients.
We owe our success to our excellent team of 12 lawyers
Our expertise in head and brain injury claims will help our clients pursue justice and compensation with confidence. We, at Michael de Broglio Attorneys, have won compensation amounts as high as R5 million for personal injury claims.
We owe our success to our excellent team of 12 lawyers and our effective tactics and skills. We draw on our experience and take into consideration the specifics of each case to build the strongest case possible and get high compensation amounts for our clients.
Tough and determined lawyers
We have developed a time-efficient process for case investigation and preparation for lodging brain, head or brain and head injury claims.
If your claim is valid, we will do everything necessary to ensure that the best possible outcome is reached. We are highly skilled in negotiation and litigation.
We have earned a reputation for being tough and determined, we will give attention to detail to your case. Our professional efficiency is combined with dedicated personal attention. We strive to ensure that the whole process goes as smoothly as possible and we will keep you up to date.
Michael de Broglio Attorneys – Brain Injury Claim
Claim Type

Brain Injury Claims
Benefits of Michael de Broglio Attorneys
MOTOR Accidents
ROAD Accident Fund
MEDICAL Negligence
DIVORCE
---
We strive to provide the best legal services to South Africans
Michael De Broglio Attorneys is not new to the legal industry. We strive to provide the best legal services to South Africans, who have personal injury cases, and other legal needs in the country.
If you have been involved in an incident, accident or injury, that has caused any form of brain injury and wasn't your fault, we will help put a case together for your best interests in mind.
Personal injury claims
We have the legal experience and the experts in the industry, to make a case on your behalf. Personal and public liability claims can be categorised in a number of ways. There are incidents that can occur in buildings, through accidents and through violence.
These are just a few of the areas we deal with on a regular basis. Personal injuries that result in a brain injury, are quite severe, and often in these cases, the person injured can have long-term brain damages, lengthy hospital stays, and also have problems getting back into regular day to day living and working environments. Unfortunately, these cases can often leave the victim never being the same as they were before the incident.
Get compensated and support yourself financially
We have many years working with clients in this kind of situation and have fought their case in legal terms, to get the brain injury compensation they need to support themselves, and cover their medical bills.
If you have been a victim of such an incident, where you were purposely hurt with a brain injury, that wasn't your fault, contact our firm today. We will analyse your case, and collate all the evidence and paperwork you can provide us with, to offer a case that will help you through this difficult time.
The more information, documentation, photos and medical reports you can provide us with, the better for your case. We also need to have substantial evidence to provide the incident was not your fault, and that you were the innocent victim in this ordeal.
Our fee structure will be discussed with you upon the first consultation, where we will discuss the entire process with you. Don't wait till it's too late, let us help you today.
Michael de Broglio Attorneys Contact
Contact Number
E-Mail
Website
Physical Address
127 Jan Smuts Avenue

Parkwood

Johannesburg

2196

South Africa
---
Postal Address
P.O. Box 2013, Parklands, 2121, South Africa
Opening Hours
Monday

08:30 – 17:00

Tuesday

08:30 – 17:00

Wednesday

08:30 – 17:00

Thursday

08:30 – 17:00

Friday

08:30 – 17:00

Saturday

– CLOSED

Sunday

– CLOSED