Motsoeneng Bill Attorneys
Modern practice of law
Winning strategies
Professionalism and care
In-page navigation
---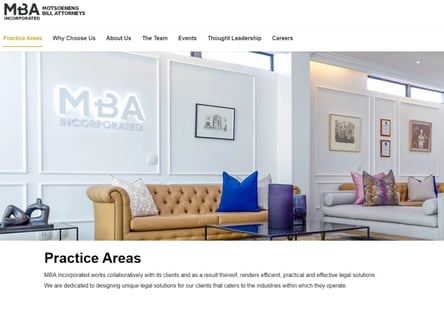 Author Motsoeneng Bill Attorneys. Screenshot of Motsoeneng Bill Attorneys website.


[Accessed March 31, 2023]
Motsoeneng Bill Attorneys - a dynamic legal practice
At Motsoeneng Bill Attorneys we have become a reputable law firm through our special background and modern practice of law.
We believe that our small size is an advantage, it enables us to provide complete personal attention to each client.
We are experienced experts in law and we have access to a reputable medical board. We specialise in labour law, commercial law and litigation. We can handle head and brain injury claims of different sizes and complexity.
Get a reputable law team on your side
Our innovative strategies have resulted in impressive results for the legal problems of our clients. We have earned a reputation as dynamic legal experts, we focused on delivering the most positive outcomes through innovation.
Our team is led by Michael Motsoeneng who has long-term experience in working with business and corporate clients. Our lawyers have excellent education and exceptional skills and will help you make a claim with professionalism and care. Our team consists of strong leaders who work together to deliver legal services and excellent client service.
We are experts in public and regulatory law
At Motsoeneng Bill Attorneys, we have extensive knowledge in the public and regulatory law and litigation and dispute resolution.
We can provide assistance with personal injury claims.
We have the experience and expertise to handle even the most complex of cases and to deliver a legal service of the highest quality.
We have winning strategies
Accident victims or victims that have sustained injuries due to the negligence of another party have the right to receive compensation for any medical expenses which they have incurred, loss of income and for the physical and emotional pain and suffering.
We strive to achieve the highest compensation for our clients to cover medical expenses an the loss of income.
Brain injuries are serious and the compensation amount can reach millions of rand.
When you come to us, we will check if your brain injury claim is valid.
If you have a valid claim we will work hard to defend your rights.
Motsoeneng Bill Attorneys – Brain Injury Claim
Claim Type

Brain Injury Claims
Benefits of Motsoeneng Bill Attorneys
MOTOR Vehicle Accident Claims
PUBLIC Liability Claims
ROAD Accident Fund
BRAIN Injury Claims
RAIL
BOATING And Aviation Accidents
SPORTING Injuries Claims
PROFESSIONAL Negligence
OCCUPATIONAL Injuries
MEDICAL Negligence
---
Motsoeneng Bill Attorneys - With us, you will have the best representation
Our visions are to ensure that all South Africa citizens receive the best representation possible.
Our service rates are highly competitive, our staff are highly knowledgeable and trained to help you win your case. Our attorneys want to inspire trust, so we treat all our clients with dignity, honest advice and professional service.
What makes us different?
We have a modern approach to the way that we practice law. Our company is 100% black-owned and thee to serve the people of South Africa that might not be able to afford representation for their brain injury claims elsewhere.
Our attorneys will assist you in your own language, the small size of our company allows us to develop a personal relationship with our clients and make sure that they receive the maximum compensation that is due to them.
Head injuries and emotional pain and suffering
It's unfair that you should suffer from an event that wasn't your fault. In the event of a head injury or brain damage, you have the right to head injury compensation including medical expenses, pain and suffering and loss of earnings. If you are unable to work in the future because of your head injury you may be entitled to millions of rand in loss of earnings claims.
Contact us and we will investigate the validity of thehead or traumatic brain injury claim and advise you if you have a case or not. If we feel you have been negatively affected and you are due compensation we will help you have the best chance of winning your case.
Even if you have no physical signs of head trauma after an accident you should still be examined by a medical professional as a haematoma can occur with no physical visible signs. If left untreated this could result in a stroke or permanent brain damage.
Motsoeneng Bill Attorneys Contact
Contact Number
E-Mail
Website
Physical Address
321 Main Rd, La Rocca Office Park, Block E

Bryanston

Gauteng

2060

South Africa
---
Postal Address
P. O Box 69, Morningside, 2057, South Africa
Opening Hours
Monday

08:00 – 17:00

Tuesday

08:00 – 17:00

Wednesday

08:00 – 17:00

Thursday

08:00 – 17:00

Friday

08:00 – 17:00

Saturday

– CLOSED

Sunday

– CLOSED