Various fields of law
Outstanding results
Rightful compensation
In-page navigation
---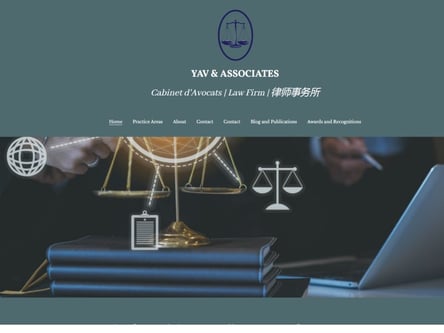 Author Yav & Associates. Screenshot of Yav & Associates website.


[Accessed March 31, 2023]
Yav & associates - We have an open-minded attitude
At Yav & Associates, we offer a set of legal and corporate services to individuals and families, owner-managed businesses and corporations.
Our team consist of professionals in the field of law, finance and banking, accounting and taxation and intellectual property as well as medical experts who can assist with medical negligence claims as well as personal injury claims.
This combination of these multiple disciplines enables Yav & Associates to deliver outstanding results and a high-quality client care.
High-quality customer service
We have become a popular name when it comes to personal injury claims, but we are also able to offer you any legal services that you need.
We have a strong team that works hard together. We understand business and individual needs, our services are based on expertise, experience and knowledge.
We are transparent with our clients and we will keep you informed on the processes of your head or brain injury claim.
Experience in various fields of law
At Yav & Associates, our main goal is to fight for the rights of our clients. Our consulting and law firm has the expertise and many years experience in the various fields of law.
We are able to offer legal advice and assistance to victims that have sustained an injury due to the wrongful act of another party.
We can handle different types of personal injury claims including brain injury claims and head injury claims.
The right to receive compensation
If the injury is a result of the wrongful act of another party, the victim or their family has the right to receive compensation.
Compensation can be used to cover medical expenses and the loss of income.
If you suffered an injury due to an accident which was the fault of another party, you can claim for compensation.
We will investigate it to determine whether your personal injury claim is valid. If your claim is valid, we will take up your case the take the required steps towards receiving justice and rightful compensation.
Yav & Associates – Brain Injury Claim
Claim Type

Brain Injury Claims
Benefits of Yav & Associates
ANIMAL Bites
ASSAULT
AVIATION Accidents
BIRTH Injury
BOATING Accident
BRAIN Injury
CRIMINAL Defense
CRUISE Ship Accidents
INDUSTRIAL Injuries
MEDICAL Malpractice
MOTOR Vehicle Accidents
MOTORCYCLE Accident
PERSONAL Injury
PRODUCT Liability
SLIP & Fall
---
Yav & Associates - We have a winning attitude
We offer legal services to the corporate world and individuals. Our business specialises in corporate law, intellectual property law and labour and family law.
We aim to help those that need it receive justice and have the best chance at getting compensation for your claim.
Keeping you protected in every situation
Life happens when you least expect it, you could be driving around going about your business and be involved in a motor vehicle accident or be assaulted while walking to your car.
If you are injured through no fault of your own and are simply at the wrong place at the wrong time, then you deserve to be compensated for your pain and suffering.
If you have been involved in a violent assault, we will be able to assist you with your claim and how to file it.
Our network of specialists will investigate and build a strong case on your behalf by gathering evidence and expert testimony. Our experts have a winning attitude and will fight for justice on your behalf.
Claiming for a brain injury
Brain injuries are very serious as they can affect your ability to live and work in the future. You need to make sure that you keep a record and document all injuries this will help when you need to put in a brain injury claim.
There are many instances where you could experience a brain injury these include:
Personal injuries from slipping or falling – this type of injury would require us to sue the third party on your behalf and make a slip and fall claim
Car and motorbike accidents
Defective products that may cause injury
Medical negligence
Steps to follow after you have experienced a head injury
Be examined by a medical professional to identify all injuries
The accident will need to be investigated and fault placed on the guilty party
Complete the statutory claim forms and open a criminal case if necessary
Make sure you document everything in writing
Contact us and your lawyer will serve the accused with the intent of legal proceeding document
If the case goes to trial, then a date will be given
The judge will rule on the final matter and decide if you deserve head injury compensation
Yav & Associates Contact
Contact Number
E-Mail
Website
Physical Address
58 17th Ave

Edenvale

Johannesburg

1609

South Africa
Opening Hours
Monday

07:30 – 17:00

Tuesday

07:30 – 17:00

Wednesday

07:30 – 17:00

Thursday

07:30 – 17:00

Friday

07:30 – 17:00

Saturday

– CLOSED

Sunday

– CLOSED