Effective legal service
Innovative process
High success rate
In-page navigation
---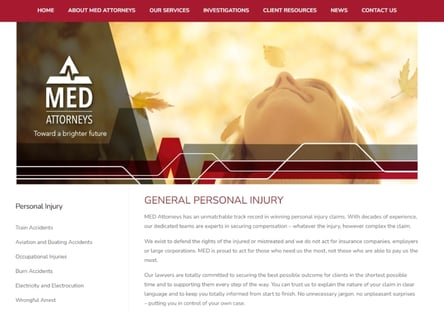 Author Mokoduo Attorneys. Screenshot of Mokoduo Attorneys website.


[Accessed March 31, 2023]
Mokoduo Attorneys - Effective legal services
At Mokoduo Attorneys we are renowned for our innovative approach and excellent achievement record.
Mokoduo Attorneys is among the most respected and successful law firms, we take great pride in our modern and highly effective legal service based on diverse experience, focused expertise and excellent customer service.
A passion for law
Our team is comprised of highly skilled lawyers and specialists in the medical and legal fields. We are passionate about their work. We seek exceptional outcomes to meet and exceed the expectations of our clients. We have gained a position of leadership in our field thanks to our full commitment and dedication to each case.
Integrity is at our core
We adhere to the highest professional standards when we practice law, we work quickly with an eye for attention to detail. We are focused on defending the rights of our clients while offering exceptional customer service. Over the years we have won many high profile brain injury claim cases and we aim to get the highest amount of compensation for our clients.
We work with dedication
There are more than 89,000 cases of brain injuries in South Africa every year, these victims need someone to fight for their rights.
If you or a family member has suffered an injury and you believe that the accident occurred due to the wrongful act of another party, we, at Mokoduo Attorneys can help you to lodge a claim and get compensation.
Brain injury claims
We have extensive experience in claims for personal injuries. We have represented children that have sustained brain injuries as a result of accidents and medical negligence. We can handle cases involving different types of accidents from vehicle and bicycle collisions to playground falls and many other situations
High success rate
We have a high rate of success due to our expertise, legal knowledge and the dedication which we work with. Our team includes highly skilled lawyers and specialists with extensive medical knowledge who work together to build a strong case with expert testimonials. We use innovative strategies for negotiation and litigation which result in successful head or brain injury claims.
Mokoduo Attorneys – Brain Injury Claim
Claim Type

Brain Injury Claims
Benefits of Mokoduo Attorneys
---
Mokoduo Attorneys - The brain injury claim experts
Mokoduo Attorneys know legal cases well. With experience dating back a number of years, we have the capacity and the capability to assist you with your personal, brain and head injury claims.
We have dealt with a number of severe injury cases, with brain injuries being one of our specialities. These kinds of injuries are very delicate and highly dangerous.
The effect of brain injuries can be lasting
Brain injuries can be the result of an accident, or a malicious act of another person. If the incident was intentional and could have been prevented, you as an innocent party can file a legal case in this matter. We can assist with assault claims as well as personal injury claims including head and brain injuries.
We are here to help you with that case. We have done this for thousands of clients, and the sooner we hear from you after the incident, the better chances of us getting an analysis of your situation together.
This kind of case is very sensitive to the client. You may have experienced a long hospital stay, invasive tests, or even have brain damages which affect the rest of your life, and working life. You may suffer from seizures, memory loss and many more ailments caused by the injury.
We have expert lawyers
In these situations, you may have someone stand in for you on your behalf when an initial consultation is set up. We would need to get a thorough understanding of the whole incident, and what your situation is currently.
If you have endured injuries that are severe, and will affect your life going forward, this will be an important factor in your case. Our legal team have experts in this area of brain injuries. There is no reason why an innocent victim shouldn't have legal representation to fight for compensation in this event.
Contact one of our experienced legal team members as soon as possible, and let us inform and advise you on the next steps to take. We understand how traumatic and emotional these situations can be.
We are here to provide the support and legal assistance to you and help build and win a personal injury case on your behalf. Let us fight the fight in court for you, allowing us to get you the brain injury compensation to cover your medical bills and more.
Mokoduo Attorneys Contact
Contact Number
E-Mail
Website
Physical Address
149 Oxford Rd, Cnr Wantage Rd

Johannesburg

Gauteng

South Africa
---
Postal Address
PO Box 1572, Bedfordview, 2008, South Africa