Malcolm Lyons & Brivik Attorneys
Top quality service
Established in 1965
Creative and forward thinking
In-page navigation
---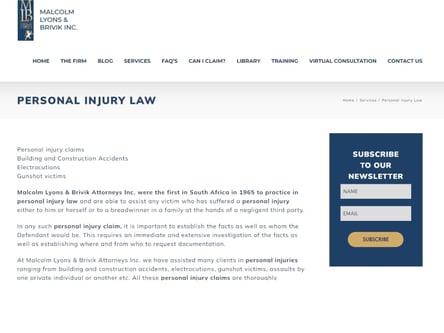 Author Malcolm Lyons & Brivik Attorneys. Screenshot of Malcolm Lyons & Brivik Attorneys website.


[Accessed March 31, 2023]
Malcolm Lyons and Brivik Inc - top quality legal services
We, at Malcolm Lyons and Brivik Inc., have won the highest compensation for a road accident victim in South Africa. Your case will be handled with the same dedication
Our achievements are due to the quality of our legal service focused on personal injury claims, but we can give you legal solutions for many law fields. We strive to give you the confidence to seek the justice you deserve.
Creative and forward thinking
We have defended the legal rights of more than 3,000 local people suffering from asbestos disease and we have won a large amount of compensation for these clients.
We rely on our long-term experience and expert skill sets combined with creativity and forward thinking to ensure the most positive outcome for your case.
We provide victims with law solutions
Our legal firm was established in 1965 and since then we have specialised in personal injury law. We are committed to serving the victims of accidents nationwide and can assist you with your head or brain injury claim.
Our company consists of six lawyers and two candidate attorneys. We cooperate with legal firms from Europe and the USA when we handle. We have all the resources to achieve the goals of our clients.
We are fully equipped for initiating, negotiating and litigating brain injury claims
At Malcolm Lyons and Brivik Inc., we are experts in medical law. We have over 50 years of experience in handling cases of medical malpractice, medical negligence and hospital negligence.
We are fully equipped for lodging claims, negotiating and litigating brain injury claims.
We work with victims and their families to achieve the best possible outcome in any legal situation.
Throughout the years, we have earned large compensation awards for our clients.
The compensation amount varies from case to case, but it usually covers medical expenses, loss of earnings and related benefits and personal damages.
We conduct investigations effectively
The complexity of the medical law and the sensitivity of the situation require precision and care in the handling of such cases.
We will conduct an investigation effectively and discreetly and take the right legal steps for achieving compensation.
We will validate your brain head or traumatic brain injury claim and if your claim is valid we will start the process.
Malcolm Lyons & Brivik Attorneys – Brain Injury Claim
Claim Type

Brain Injury Claims
Benefits of Malcolm Lyons & Brivik Attorneys
PRODUCT Liability Claims
DOG Bite Claims
ANIMAL Bites
PERSONAL Injury Claims
AVIATION Accidents
BICYCLE Accident
BIRTH Injury
BRAIN Injury
BURN Injuries
CONSTRUCTION Accidents
MEDICAL Negligence
SEXUAL Harassment
SURGICAL Errors
---
Malcolm Lyons and Brivik Inc. - legal assistance when you need it
Malcolm Lyons and Brivik Inc. provide the legal assistance clients need when it comes to personal injury compensation claims.
We are professionals and experts in this field, with a team of highly experienced South African attorneys in our firm. With years dating back as far as 1965, we are confident that our years in the business, can testify to our expertise in legal areas.
We provide legal services for (but not limited to):
Personal injury claims
Building and Construction Accidents
Electrocutions
Gunshot victims and assault claims
As a legal pioneer in South Africa, Malcolm Lyons & Brivik Attorneys Inc. have an upper hand when it comes to defending people in our country.
Let us help you build your case
If you have suffered a brain injury due to the actions of someone else, and the injury was caused by another person's actions and not your fault, we can help you build your case. To start analysing your situation, we would need to see you in a consultation as soon as possible.
You would need to ring along as much evidence and documentation revolving around the incident as you can. We would need as much evidence and proof as you can come up with, in order to secure a tight case on your behalf and ensure you get the head injury compensation you deserve.
At the end of the day, we need to show that the incident could have been prevented, wasn't your fault, and that you have suffered any kind of trauma from the incident. We have offices in Johannesburg and in Cape Town.
Heres how to contact us
Should you not be able to get to our branches, contact us via telephone, with all your information, and we will make a plan to meet with you. Your case will be your appointed attorney's priority, we will always go the extra mile to assist you with what needs to be done on your behalf.
The compensation you could be awarded will depend on the severity of your injuries, your inability to carry on working a normal job due to the repercussions of your injuries and if your life is worse off now than it was before the incident.
This may sound daunting, however, it is a reality, and brain injuries can often leave the victim scarred for life. Contact us today, and let us help you build a case and get the brain injury compensation you need and deserve for the injuries sustained.
Malcolm Lyons & Brivik Attorneys Contact
Contact Number
E-Mail
Website
Physical Address
Suite 501, 5th Floor, The Colosseum 3, St Georges Mall

Cape Town

8001

South Africa