Mohapi J Sepeesa Attorneys
Reputable law firm
Professional expertise
Young, dynamic team
In-page navigation
---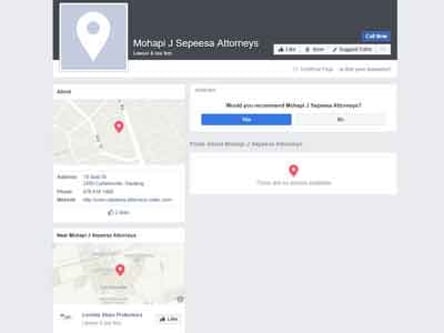 Author Mohapi J Sepeesa Attorneys. Screenshot of Mohapi J Sepeesa Attorneys website.


[Accessed April 5, 2023]
Mohapi J Sepeesa Attorneys - We build strong partnerships
If you have been involved in an accident or sustained an injury due to the wrongful act of another party you have the right to claim for compensation, you can choose to claim yourself but many times it does not have a positive outcome.
The best option is to get a reputable law firm on yourself and this is where Mohapi J Sepeesa Attorneys can help you. We have the knowledge and experience to help you get a positive outcome to your claim.
We have a young and dynamic team
Our young and dynamic legal firm has a team of lawyers who are legal experts in their field, they have a passion for helping clients pursue justice. We use a combination of excellent legal knowledge, compassion and personal understanding to get you the justice you deserve.
We strive to ensure that your brain injury claim will have a successful outcome. To do this, we have a wide range of resources and we will work hard until we have reached our goal.
Whenever necessary, we use the assistance of our associates and medical experts. We build strong partnerships with other legal practices and long-lasting relationships with our clients.
We assist victims and their families
At Mohapi J Sepeesa Attorneys, we combine professional expertise with personal commitment and we will be transparent with our client.
We specialise in various types of claims including brain injury claims and head injury claims.
We assist victims and their families with justice and rightful compensation. We strive to make the processes as streamlined as possible.
Negotiation is our first strategy
The first step of the claim process is the investigation of the case.
It will show whether a valid claim can be lodged.
If there are legal grounds for a claim, we will prepare a strong case based on expert medical testimonies and solid evidence.
We will then enforce the personal injury claim on the person or persons responsible. We choose to use expert negotiation as our primary strategy.
If a fair settlement is not reached, we will proceed with litigation.
We develop an individual strategy and personal dedication for each case to ensure that we can provide the best legal representation.
Mohapi J Sepeesa Attorneys – Brain Injury Claim
Claim Type

Brain Injury Claims
Benefits of Mohapi J Sepeesa Attorneys
ANIMAL Bites
ASSAULT
BACK And Neck Injury
BIRTH Injury
BRAIN Injury
BURN Injuries
CAR Accident
INDUSTRIAL Injuries
MOTOR Vehicle Accidents
MOTORCYCLE Accident
NEGLIGENCE
PERSONAL Injury
RAILROAD Accidents
SLIP And Fall
---
Mahapi J Sepeesa Attorneys - We can help you claim for your brain injury
Our company was first established in 1999 and is 100% black-owned and is fast becoming a leader in the legal field. Experiencing any traumatic event can be life changing this is especially true in the event that you have a head injury that results in brain damage.
Brain damage will affect your future and may result in you losing your job and your income. You have suffered enough and if there is a way to get you head or brain injury compensation for your injury we will assist you wherever possible.
Mounting medical bills and dealing with your life-altering brain injury is very overwhelming and you may not know which way to turn. If you are so severely hurt that you can't work again you might be put under huge amounts of financial strain.
Why should you choose us?
We have many years of experience helping those that have experienced head trauma receive the compensation that is due to them. The funds that you win can be used to pay for medical expenses and help you keep afloat in your time of need.
Our clients are important to us, we will get to know you on a personal level and hold your hand through the claims process. Our experts specialize in personal injury caused through:
Car, motorbike and truck accidents
Falling or striking your head
Violent assaults and attacks
Work accidents
Liability accidents which may lead to a public liability claim
In some cases, you will need to go to court in order to receive the compensation you deserve and make sure that the guilty party is held liable. We will help you determine the extent of your injuries and arrange your claim so that you receive maximum compensation.
Age plays a very important factor when it comes to head injuries and the older you are the more likely you are to experience severe brain trauma. Make sure to seek medical attention and document all the injuries you have sustained so that your traumatic brain injury claim can be successful.
Mohapi J Sepeesa Attorneys Contact
Contact Number
E-Mail
Website
Physical Address
18 Gold Street

Carletonville

2500

South Africa
Opening Hours
Monday

08:00 – 17:00

Tuesday

08:00 – 17:00

Wednesday

08:00 – 17:00

Thursday

08:00 – 17:00

Friday

08:00 – 17:00

Saturday

– CLOSED

Sunday

– CLOSED