Ronald Bobroff & Partners
40+ Years' experience
Successful specialists
Personal attention
In-page navigation
---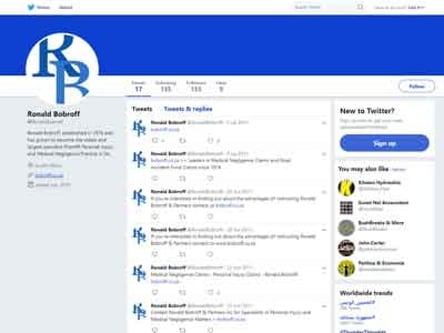 Author Ronald Bobroff & Partners. Screenshot of Ronald Bobroff & Partners website.


[Accessed April 5, 2023]
Ronald Bobroff & Partners Inc - We will help you get justice
At Ronald Bobroff & Partners Inc our strength comes from our experience and from our long record of successful achievements.
At Ronald Bobroff & Partners Inc., we represent victims of accidents and help them receive justice and rightful compensation. We are amongst the most successful specialists in personal injury law and medical negligence claims that you can find in South Africa.
We have been helping accident victims and their families since 1974. We have exceptional achievements such as the winning of the highest compensation for a road accident victim at the time.
A qualified team, you won't find anywhere else
Our long-term work and experience are among our primary advantages. In addition to our team of talented and dedicated lawyers, we have an in-house team of medically qualified professionals who make it possible for us to develop powerful strategies with expert testimonies.
We are fully capable of handling brain injury claims of very high complexity involving many people. We have proven this in our practice over and over.
We have over 40 years of experience
At Ronald Bobroff & Partners Inc., we have over 40 years of experience in personal injury law.
We have a team of excellent lawyers who use innovative and dynamic tactics for achieving the most positive outcome for our clients. We provide complete personal attention and complete dedication to your case.
All of these factors make one of the top providers of legal representation in cases of brain injury claims.
These injuries can result from various types of accidents including road, train and even playground accidents or medical malpractice.
Contact us for a consultation
Irrespective of the cause, the brain injury cases are complex and require careful investigation. We will use our resources to achieve the deserved TBI head injury compensation if our investigation confirms that the claim is valid.
We always strive to achieve the maximum award for our clients either via expert negotiation or litigation. You can contact us for consultation right away.
Ronald Bobroff & Partners – Brain Injury Claim
Claim Type

Brain Injury Claims
Benefits of Ronald Bobroff & Partners
MEDICAL Negligence
ROAD Accident Fund
MOTOR Vehicle Accidents
MOTORCYCLE Accidents
LOSS Of Support Claims
SLIP And Fall Claims
DOG Bite Claims
PUBLIC Liability Claims
PRODUCT Liability Claims
BOATING & Rail Accidents
PERSONAL Injury
BRAIN Injury Claims
DIVORCE & Family Law Matters
---
Ronald Bobroff & Partners will take your brain injury case and fight for what you deserve!
We have many years in the legal industry, and many years in assisting clients with head injury claims who have suffered from an incident, accident or traumatic event, that was not their fault.
This incident which would have caused a devastating injury, such as a brain injury, could have not only an emotional trauma added to your life but a long road of hospital treatments, seizures, nerve damages and possibly more.
Brain injury claims
This is not an injury to be taken lightly. If you were an innocent victim during this incident, you have the right to claim for brain injury compensation, for the trauma and damages caused to yourself and your life moving forward. Because we have worked with numerous clients and cases in this area, we know how severe this kind of injury can be.
We know the long-term effects it can possibly have on a person. Even to go as far as saying that your life may ever be the same again you may have problems getting back to work, and not being able to do the things you once were able to do before the injury.
These are all serious factors that will be included in your case, to make it plausible to winning you the compensation you need to carry on with your life going forward.
Personal injury claims
We advise our clients in personal injury situations to gather as much information as they can, and set up an appointment with us, to discuss the incident.
We will take all the information you provide to us and work around building a case that will hold up in court, and get you the compensation and justice you deserve, from having endured such a traumatic crime of violence.
We have a team of legal-minded experts, all qualified to handle your personal injury claim. We will assign the best team to your case who will be by your side throughout the case and keep you abreast and updates on everything as it happens.
We will also advise you on the right decisions to make to ensure you get the best benefits of your legal situation. You can count on your legal team Ronald Bobroff & Partners Inc., to fight your fight in court.
Ronald Bobroff & Partners Contact
Contact Number
E-Mail
Website
Physical Address
37 Ashford Road

Parkwood

Johannesburg

2193

South Africa
---
Postal Address
P O Box 1170, Parklands, Johannesburg, 2121, South Africa