Founded in 1929
High achievements
Superb personal attention
In-page navigation
---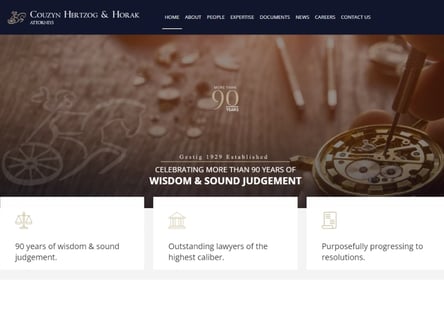 Author Couzyn, Hertzog & Horak. Screenshot of Couzyn, Hertzog & Horak website.


[Accessed March 31, 2023]
Couzyn, Hertzog & Horak - A track record of success
As one of the oldest standing law firms in South Africa, Couzyn, Hertzog & Horak has always been recognised for its high achievements and for the exceptional talent of its lawyers.
The firm was founded in 1929 by Paul Couzyn. It has given the country some of its best attorneys, judges, political leaders and industrialists including Attie Horak, Dirk Hertzog and Hans Strijdom.
A hard-working team
Over the years, we have received accolades for the outstanding quality of our work, for taking up challenging criminal injury claims and for attracting sophisticated clients.
The delivery of services which exceed the highest standards has always been in the core of our firm's culture along with our strong ethical and moral values.
We are focused on making our firm a very special place where our clients receive complete legal advice and assistance with their personal injury claim and superb personal treatment. Our team work is among the major factors behind our long-term success.
We have a long history of success
The legal services provided by Couzyn, Hertzog & Horak have always had an excellent reputation for their high quality. We have been operating since 1929 and have a long track record of achievements.
We have some of the most talented attorneys in the country and this enables us to provide successful resolutions even to the most challenging criminal injury claims.
Our areas of practice include, but are not limited to civil and commercial litigation, criminal law, personal injury law and commercial and corporate law.
Exceptional legal services
We have diverse experience in representing criminal accident victims who seek compensation for personal injuries. We have everything necessary for preparing sound criminal injury claims and for instituting them without delay.
Our negotiation and court representation strategies are based on exceptional skills and creative thinking. We have a high level of success thanks to our teamwork and dedication. Our exceptional legal services and advice with assault claims are combined with special attention to each client.
Couzyn, Hertzog & Horak – Criminal Injury Claim
Claim Type

Criminal Injury Claims
Benefits of Couzyn, Hertzog & Horak
CRIMINAL Law
PERSONAL Injury
---
Couzyn, Hertzog & Horak - A highly experienced firm
Couzyn, Hertzog & Horak have been practising law since 1929. This long-term and highly experienced firm consist of some of the most qualified and experienced attorneys in South Africa.
Our knowledge of personal injury claims, including criminal injury claims, is second to none nothing short of exceptional. We have a list of clients who have been compensated with high payouts to accommodate their emotional and financial support through these tough and trying times. We are up for any challenge.
Compassionate support and services
If you have had the unfortunate experience of being involved in any criminal injury, contact our firm, and we will assist you in outing your case forward. We see no case as too big or too small.
Every South African deserves the rightful support and services from a legal team who is there for them through the good and the bad. Our passion for law and our clients combined makes a perfect fit for you.
We have over the years noticed an increase in these kinds of cases, due to the increase in crime in South Africa. Victims throughout the country experience harm from another person for no rightful reason at all. We can assist with dog bite claims, head and brain injury claims and any form of assault claim.
They feel helpless and unsure of what to do next. Your life could change in a second, and you could experience trauma in a number of ways, affecting your life going forward. This should not be taken lightly, and justice must be served.
Criminal cases in court are tough, but we are tougher. The defendants will throw us a curveball, they will try their best to dwindle through the evidence and try as best they can to keep the perpetrator safe, however, we have the experience to cut through their testimonies. Our clients can put their trust in us, to fight for them throughout their journey and partnership with Couzyn, Hertzog & Horak. Contact us today, make a claim for compensation - you can only move forward from this incident by taking the next step to getting the justice you deserve.
Couzyn, Hertzog & Horak Contact
Contact Number
E-Mail
Website
Physical Address
321 Middel Street

Brooklyn

Pretoria

0181

South Africa
Opening Hours
Monday

07:30 – 16:30

Tuesday

07:30 – 16:30

Wednesday

07:30 – 16:30

Thursday

07:30 – 16:30

Friday

07:30 – 16:30

Saturday

– CLOSED

Sunday

– CLOSED