Solid reputation
Modern approach
Resourceful and hardworking
In-page navigation
---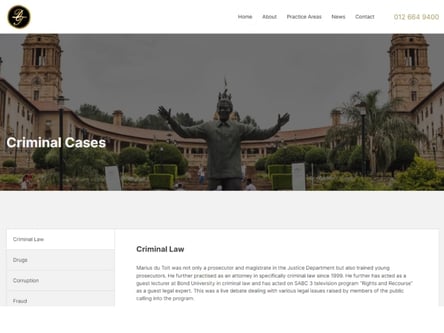 Author Du Toit Attorneys. Screenshot of Du Toit Attorneys website.


[Accessed March 31, 2023]
DuToit's Attorneys - we have a modern approach
For more than 5 years, DuToit's Attorneys has been providing professional legal services of top quality to South Africans. We have a solid reputation for being approachable, professional and resourceful.
We take great pride in our achievements in the fields of law which we specialise in such as criminal injury law. Our core areas of practice include personal injury law, family law, insolvency law and commercial and corporate law.
We serve justice
We have extensive expertise which we have built as part of our education and practice of law. We respect and adhere to the best traditions in our field. We combine them successfully with a modern approach based on innovation and creativity to achieve success in assault claims, personal injury claims, medical negligence claims and any form of third party claims.
We are determined and hard-working. When we take up a case, we focus on it until we reach a workable solution which is in the best interest of the client. We serve justice and the people who entrust us with the resolution of their legal matters with full commitment.
Effective legal services
We combine our expertise in criminal law and personal injury law to provide competent and effective legal services in the field of criminal injury claims.
At DuToit's Attorneys, we have considerable experience in working with the victims of crime and their families.
We provide the legal advice and assistance which they require for defending their rights and obtaining compensation. You are welcome to contact us and to arrange a consultation.
We will investigate your claim
This will enable us to learn more about your case and to assess the validity of a personal injury claim.
If our investigation shows that you have legal grounds for claiming compensation, we will take up your case and prepare a solid claim.
We will take over the whole matter and use our knowledge and skills to achieve the best possible outcome.
We will keep you regularly updated with developments while working efficiently to shorten the waiting time for you and for your loved ones.
Du Toit Attorneys – Criminal Injury Claim
Claim Type

Criminal Injury Claims
Benefits of Du Toit Attorneys
PERSONAL Injury Claims
3RD Party Accident Claims
---
Our legal team is highly trained
Du Toit's Attorneys in South Africa will always put their clients first. Our legal team is highly trained, qualified and experienced in handling your criminal injury case.
When you need a leading law firm in South Africa to handle your simple or complex case, look no further. We have at the time of our practising, become a strong and reckoned force in the legal industry. With cases of high profile clients as well as our winning streak in court, we know that we can help you with your situation.
Contact us
Criminal incidents that occur through violence and intention to cause harm, are often dragged out in court. These are cases that take the tie, but with our firm by your side, time is just a process, knowing that we will do our very best to ensure you get justice for what happened by making a criminal injury claim.
We have in the years of defending clients in criminal cases won over 90% of our cases. Criminal cases including, rape, fraud, police brutality, negligence in the medical field and other situations, are just a few of what we have dealt with over the years.
We ask that clients contact us as soon as possible after their incident, and we will take all the information as well as any proof you can provide and put it together to assess. We will use our best resources to assist with any further investigations and work needed to build up your case so that it is airtight in court. We understand that coming forward to get legal help is not easy.
There is always the fear factor or what could happen further down the road, the financial aspect, as well as your long-term ability to carry on with normal life. We do encourage you to step forward. Taking the first step to getting legal representation, will add closure to a tough ordeal, as well as the possibility of claiming for compensation to cover the financial aspects of what you have been through.
Du Toit Attorneys Contact
Contact Number
E-Mail
Website
Physical Address
252 Jean Ave, Die Hoewes

Centurion

Pretoria

0157

South Africa