Comprehensive legal service
Vast expertise
Commitment to client
In-page navigation
---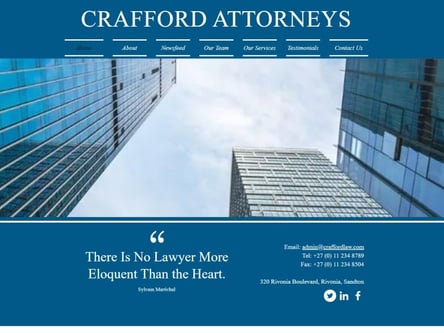 Author Crafford Attorneys. Screenshot of Crafford Attorneys website.


[Accessed March 31, 2023]
Crafford Attorneys - We are committed to our clients
The dedication with which we, at Crafford Attorneys, serve our clients has brought us major success and reputation for excellence. We specialise in three major areas of law. These include personal injury law, family law and commercial law.
We take up various types of cases from divorce and child custody to assault and criminal injury claims. We are committed to providing high-quality legal assistance to individuals, families and businesses in distress.
We have a team of dedicated experts
Our determined teamwork and vast expertise enable us to find the best legal solutions of our client irrespective of the complexity of their personal injury claims.
We are motivated by challenges and this makes us stand out among our competitors. We take up cases of various sizes and welcome clients from all walks of life.
We are determined and compassionate. Our core goal is to achieve the best possible outcome and we put all of our resources to work for reaching this goal.
A comprehensive set of legal services
As specialists in the field of personal injury law, we, at Crafford Attorneys are able to provide a comprehensive set of legal services to the blameless victims of crime and their families in their effort to obtain compensation.
During our initial consultation with you, we will discuss your case and answer all of your questions regarding the initiation and litigation of the criminal injury or assault claim.
We use advanced techniques
We will conduct an investigation to confirm the validity of the claim. Then we will focus on the collection of evidence and on the testimony of witnesses and experts.
We have a team of highly skilled lawyers and work together with renowned specialists in the medical field to prepare solid criminal injury claims for our clients.
Negotiation and litigation are the two main methods for reaching a compensation award. We use advanced techniques based on the latest legislature and developments in the field of law to reach the goals of our clients.
Crafford Attorneys – Criminal Injury Claim
Claim Type

Criminal Injury Claims
Benefits of Crafford Attorneys
ASSAULT
CRIMINAL Defense
CRIMINAL Law
DIVORCE
MOTOR Vehicle Accidents
MOTORCYCLE Accident
PERSONAL Injury
PRODUCT Liability
PROFESIONAL Liability
---
Crafford Attorneys - Get the compensation you deserve
Crafford Attorneys will take your personal injury or criminal injury claim, and get you the compensation that you rightfully deserve.
Criminal cases can occur in a number of ways, at the end of the day, the victim is the one who has been injured or harmed, intentionally, by another person.
These are the people we support and fight for in court. Criminal cases are varied in a number of ways. However, we can address any criminal injury in a case and make a claim for:
Past and future medical expenses,
Past and future loss of earnings and
General damages for pain and suffering.
We are the defenders of justice
We have seen the overwhelming circumstances and consequences of what criminal incidents have done to people we have supported. The trauma and emotional stress caused to our clients is the fight in court, and we will put our best foot forward to ensure our clients always get what they deserve.
Although most of these cases can be challenging, we will stand firm to ensure no matter how long and drawn out the process may be, we will provide the best legal team and case in court on your behalf. If you know you have a case, or perhaps think you might have one, contact us today.
This could be a brain or head injury claim or a motor vehicle accident claim. Regardless of the circumstances, we can assist you.
We will be able to establish through your story and the provided supporting evidence you give us, whether or not you have something for us to work with.
We will consult with you and do a full analysis of the incident, and from there, work to put everything together, to form the best possible outcome on your behalf.
We have the legal expertise and the people, who know how to handle any kind of criminal case. Let us take yours, and take the weight and stress off your shoulders. We handle the legal part of your case, while you concentrate on the healing process.
Crafford Attorneys Contact
Contact Number
E-Mail
Website
Physical Address
Emerald Blvd, Modderfontein

Lethabong

Johannesburg

South Africa