Longterm experience
In-depth legal knowledge
Personal attention
In-page navigation
---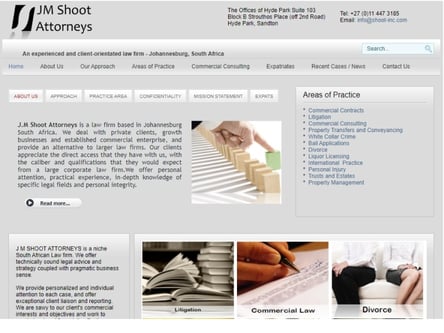 Author JM Shoot Attorneys. Screenshot of JM Shoot Attorneys website.


[Accessed March 31, 2023]
JM Shoot Attorneys - effective legal solutions
We combine in-depth legal knowledge and excellent skills in negotiation and litigation with long-term practical experience to deliver the best outcome to each client who uses our legal services.
At JM Shoot Attorneys, we base our services on integrity and personal attention as well as on professionalism and expertise in criminal injury and assault claims. We know that each and every case is unique. That is why we offer fully customised and highly effective solutions.
Cost-effective legal assistance
Our law firm is small in size and we are easily accessible for our clients. This enables us to provide complete personal attention and to establish long-term relationships with the people who come to us for legal advice and assistance.
Our aim is to provide maximum value to our clients and to reach their goals in a timely and cost-efficient way. When you come to us, we will handle your legal matter with complete competence and confidence to achieve the best possible outcome in your criminal injury claim.
Expert negotiation skills
South Africa is a country with fairly high crime rates. At JM Shoot Attorneys, we can provide legal services to the victims of crime and their families who seek compensation.
We have vast experience in personal injury law and dedicated expertise in criminal injury claims. Our job is to guarantee access to justice to our clients. We are fully committed to serving their interests and to reaching their goals.
Expert legal advice
We use our legal knowledge to provide comprehensive advice on the assessment of personal injuries and the factors for success in the pursuit of a making a claim for an injury suffered as a result of a crime.
If you have a valid personal injury claim, we can enforce it against the party that is legally responsible for your injury and implement an effective strategy for obtaining compensation.
We have mastered our negotiation and litigation skills and techniques and combine them with a personal approach to every case to reach the best outcome.
JM Shoot Attorneys – Criminal Injury Claim
Claim Type

Criminal Injury Claims
Benefits of JM Shoot Attorneys
COMMERCIAL Contracts
BRAIN Injury Claims
PROPERTY Transfers And Conveyancing
PERSONAL Injury
TRUST And Estates
HEAD Injury Claims
---
JM Shoots Attorneys
The beginning of any claim for compensation is a consultation with another medical practitioner for a second opinion on your injuries.
Provided that your injuries are then suspected to be a result of negligence or malpractice, you should then contact a legal representative to help you make a medical negligence claim.
The sooner you make contact with your lawyer, the sooner the case can be investigated, and in turn, the likelihood of success improves.
Take the first step
While beginning any case as soon as possible is very important, you must not rush to any rash decisions.
Criminal injury claims are extremely complicated and rely on expert and scientific analysis.
These cases can extend further than just physical injury, malpractice includes the abuse of ethical responsibilities. JM Shoots Attorneys has attorneys who criminal injury law.
JM Shoot Attorneys Contact
Contact Number
E-Mail
Website
Physical Address
The Offices of Hyde Park Suite 103 Block B Strouthos Place (off 2nd Road) Hyde Park

Sandton

Gauteng

2193

South Africa