Superior legal expertise
Track record of success
Exceptional customer service
In-page navigation
---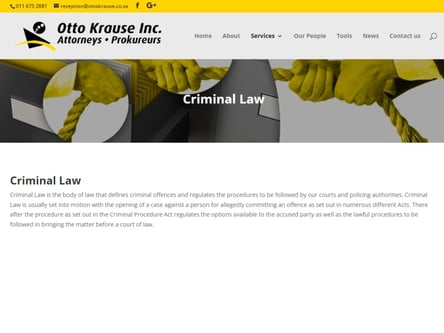 Author Otto Krause Inc.. Screenshot of Otto Krause Inc. website.


[Accessed March 31, 2023]
Otto Krause - A dynamic team
As a dynamic law firm, Otto Krause Inc. has a dedicated team of attorneys and conveyancers with outstanding expertise.
Our firm is dedicated to the provision of superior legal service which is exceptional in every respect. We are committed to serving our customers in a professional, honest and effective manner when they make a criminal injury, personal injury or assault claim.
Exceptional client services
Our legal practice was founded in 2000 by Otto Krause. From its start, it has stood out with its exceptional customer service. To this day, one of our core aims is the building of successful and long-lasting relationships with our clients through the provision of competent legal assistance and advice in criminal injury claims.
We focus greatly on the full understanding of the legal issues and goals of our clients. This enables us to use the best custom strategies.
Over the years, we have grown from a small firm to a practice with a large client base and offices in two of the major cities of South Africa - Johannesburg and Cape Town.
We will validate your claim
The attorneys of Otto Krause Inc. have in-depth knowledge and expertise in the field of personal injury law.
We work dedicatedly on each element of the process to ensure that we achieve the best possible outcome for the client.
If you or a family member has suffered injury as a result of a crime, you have the right to claim compensation.
On our first consultation with you, we will assess the merits of your claim.
We have a track record of successful claims
If its validity is confirmed by our investigation, we will be able to take up your case and take the necessary legal action via a criminal injury claim for its resolution.
We will defend your interests in an effective and committed manner.
Our work is based on excellent organisation, coordination and time-efficiency. This enables us to enjoy a high level of success.
Otto Krause Inc. – Criminal Injury Claim
Claim Type

Criminal Injury Claims
Benefits of Otto Krause Inc.
CRIMINAL Procedures
DIVORCE
LABOUR Disputes
MOTOR Vehicle Accident Claims
---
Otto Krause - We can help you step forward
When you need a law firm in South Africa to handle your criminal injury case, Otto Krause is the best option for you.
Over the years we have gained experience and knowledge and we have become a strong leader in the legal field. With cases of high profile clients as well as our winning streak in court, we know that we can help you with your personal injury or public liability claim, we always aim for the best possible outcome.
Criminal injury claims
Criminal acts that happen through violence and intention to cause you harm, are often dragged out. With us on your side, we will do our very best to ensure you get justice and compensation.
We ask that clients contact us as soon as possible after their incident, we will validate your case and lodge a criminal injury claim. We will use our best resources and expert testimonials to assist with any further investigations and work needed to build up a strong case.
We understand that coming forward to get legal help is not easy, and usually, clients are afraid to step forward. We do encourage you to step forward, with us on your side you will have the confidence to pursue justice and personal injury compensation.
We institute and litigate various types of personal injury claims including criminal injury claims on behalf of victims and their families.
Otto Krause Inc. Contact
Contact Number
E-Mail
Website
Physical Address
77 Wilhelmina Ave, Allen's Nek

Roodepoort

Johannesburg

1734

South Africa
---
Postal Address
P.O. Box 8276, Westgate, 1734, South Africa