Award-winning firm
International recognition
Transparent and responsive
In-page navigation
---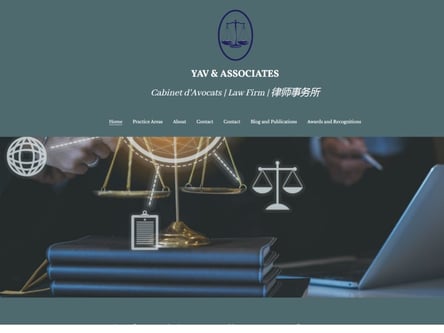 Author Yav & Associates. Screenshot of Yav & Associates website.


[Accessed March 31, 2023]
Yav & Associates - Awarded for excellence
We take great pride in the international recognition of our consulting and law firm, Yav & Associates. We have won various awards for excellence over the years. We have a long track record of achievement with criminal injury claims as well as any personal injury claims.
We have strong bonds with our clients. We have achieved all this thanks to the dedication and hard work of the talented lawyers and other specialists on our team. We have some of the best professionals in the fields of law, accounting and finance, business management and development and intellectual property.
The best legal solutions
Our expertise, flexibility and commitment enable us to deliver the best solutions in terms of efficiency, time-efficiency and cost-efficiency to our clients. We work with private persons and legal entities to assist with personal injury and public liability claims among others. We are focused on effective communication for achieving the set goals.
Our work is based on transparency an responsiveness. We have a positive attitude. We are highly motivated and determined. These factors have helped us to build an excellent reputation.
Top quality legal services
The provision of top-quality legal services with complete personal attention is in the core of the success of Yav & Associates. We have an experienced team of South African attorneys who are able to take up personal injury cases of varying complexity.
We can provide full legal advice and assistance to the victims of criminal offences and their families when they seek criminal injury compensation for their suffering.
Always dedicated to helping you
We have a strict process for criminal injury and assault claims. It begins with the investigation of the case. This step is necessary to confirm the validity of the claims.
Once this is done, we will proceed with the building of the claim which involves collecting evidence of the injury and of the criminal act. We can represent you in all courts of the country.
We have all the resources necessary for achieving success and a high personal injury compensation award. You can rely on our dedication and responsiveness at all times.
Yav & Associates – Criminal Injury Claim
Claim Type

Criminal Injury Claims
Benefits of Yav & Associates
ANIMAL Bites
ASSAULT
AVIATION Accidents
BIRTH Injury
BOATING Accident
BRAIN Injury
CRIMINAL Defense
CRUISE Ship Accidents
INDUSTRIAL Injuries
MEDICAL Malpractice
MOTOR Vehicle Accidents
MOTORCYCLE Accident
PERSONAL Injury
PRODUCT Liability
SLIP & Fall
---
Yav & Associates - let us help you with your case
We are passionate about defending the rights of our clients, and we have seen the consequences of what criminal incidents have done to clients we represented.
Our clients go through trauma and emotional stress, with us you will have a compassionate understanding legal partner.
Although most of these cases can be complex, we will build a strong case to ensure that we reach the best possible outcome for your criminal injury claim. You can be confident knowing that you have the very best legal representation on your side
We will validate your claim
Visit us as soon as possible after the incident and get the evidence and documentation in order. We will conduct an investigation to validate your claim. If your claim is valid we will start the process of making a claim, and we will keep you informed every step of the way.
We have the legal expertise and a board of specialist experts, we know how to handle any kind of criminal case. Let us take your case, and take the weight and stress off your shoulders. We handle the legal part of your case, we will make the process as easy and streamlines as possible.
Yav & Associates Contact
Contact Number
E-Mail
Website
Physical Address
58 17th Ave

Edenvale

Johannesburg

1609

South Africa