Outstanding legal representation
In depth investigation
Fair outcome for clients
In-page navigation
---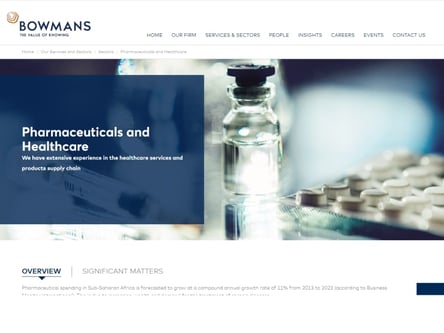 Author Bowman Gilfillan. Screenshot of Bowman Gilfillan website.


[Accessed March 30, 2023]
Bowman Gilfillan - Expert legal services
Practising for many years in South Africa, Bowman Gilfillan provides outstanding legal representation in South Africa.
With attorneys specialising in cases involving multiple fields of inquiry, Bowman Gilfillan is a firm that is dedicated to providing their clients with expert services while maintaining an accessible and informative relationship with the client.
With services extending beyond our borders
Bowman Gilfillan has built a firm that leads its' field. With over 300 attorneys to draw from, Bowman Gilfillan will provide thorough services to meet the needs of any case. The firm is dedicated to using their expertise to ensure a fair outcome for all their clients. With many of their senior associates responsible for medical negligence claims are highly regarded as some of the most effective attorneys in Africa.
Comprehensive investigations
Bowman Gilfillan provides specialist services in the fields of medico-law.
This includes analysing all the relevant medical evidence, as well as any other mitigating variables. Your attorney will advise you on the best way forward for your case to secure the medical negligence compensation you're entitled to.
Fair and honest service
Bowman Gilfillan will make contact with the practitioner and any parties liable, as well as their legal representatives to institute the personal injury claim. Once the due protocol has been followed, your lawyer will communicate with witnesses, request records and seek expert testimony for your case.
With many of Bowman Gilfillan's attorneys holding multiple degrees, you are ensured that an in-depth and comprehensive investigation will be done. Following this, your case will be presented in the strongest possible form with little room for doubt or challenge. Bowman Gilfillan is known for its' commitment to ethical practice and their attorneys will provide fair and honest services.
Bowman Gilfillan – Medical Negligence Claim
Claim Type

Medical Negligence Claims
Benefits of Bowman Gilfillan
MEDICAL Negligence Claims
---
Bowman Gilfillan - Helping you get justice
The beginning any claim for compensation is a consultation with another medical practitioner for a second opinion on your injuries.
Provided that your injuries are then suspected to be a result of negligence or malpractice, you should then contact a legal representative. The sooner you make contact with your lawyer, the sooner the case can be investigated, and in turn, the likelihood of success improves.
We specialise in ethics, medical practice and law
While the beginning any case as soon as possible is pertinent, you must not rush to any rash decisions. Medical malpractice claims are extremely complicated and rely on expert and scientific analysis. These cases can extend further than just physical injury, malpractice includes the abuse of ethical responsibilities. Bowman Gilfillan has attorneys who specialise in ethics, medical practice and law.
To contact Bowman Gilfillan, you can either do so via email or telephone. With offices in most provinces of South Africa, as well as offices as far as Nairobi, Kenya, you should be able to consult with a Bowman Gilfillan attorney about any liability claim including brain injury claims, anaesthesia death claims and slip and fall claims among others easily.
It is always advisable to communicate with your lawyer personally, as there is no room for error in these cases. Bowman Gilfillan will provide attorneys who understand the stress of laying a claim, and will only ever treat you will dignity and honesty.
However as soft as your attorney may appear, do not doubt her efficacy, Bowman Gilfillan attorneys will present an unfaltering, intelligent argument, relying on logical and rational explanations and observations.
If the defendant wants to settle the matter out of court, Bowman Gilfillan will do the compensation calculations and request the required monetary payment. Meeting face to face with the defendant and her legal team can be terrifying, but may be necessary, Bowman Gilfillan attorneys will guide you through this process and ensure it is smooth and amicable, while still presenting your case vigorously.
If you suspect medical negligence or malpractice and seek the advice and representation of a highly trained, skilled and effective attorney, Bowman Gilfillan is ready to meet your needs.
Bowman Gilfillan Contact
Contact Number
E-Mail
Website
Physical Address
22 Bree St, Cape Town City Centre

Cape Town

Western Cape

8000

South Africa
---
Postal Address
PO Box 785812, Sandton, 2146, South Africa