Personal injury claims
Analysing all evidence
Ensuring compensation
In-page navigation
---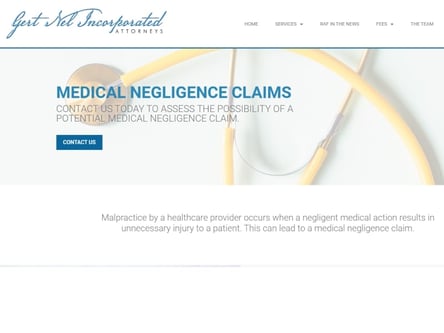 Author Gert Nel Attorneys. Screenshot of Gert Nel Attorneys website.


[Accessed March 30, 2023]
Gert Nel Inc attorneys - A dedicated service
Gert Nel Inc attorneys is a South African law firm dedicated to providing supreme legal services in cases of medical negligence and malpractice.
Specialising in personal injury, Gert Nel Inc attorneys have a number of medico-law experts as well as a network of well respected and highly skilled medical practitioners.
We always aim for successful claims
If you think you have been mistreated at the hands of a doctor, whether it is a question of ethical practice or physical injury, Gert Nel Inc attorneys have the necessary experience and skill set to ensure a successful claim. Gert Nel Inc has an impeccable legacy in medical negligence claims.
The firm worked on a case in which a baby was blinded as a result of a negligent member of the hospital's staff. The claim was thoroughly prepared and successfully settled.
The claimant was awarded more than R7.3 million, which is one of the largest compensatory payments made in South Africa. We can assist you with your personal injury claim and improve your chances of being awarded the compensation you deserve.
We are open and honest
Gert Nel Inc operates as a specialist personal injury law firm, and subsequently, legal services for claims against medical negligence and malpractice.
The firm offers a complete service for their clients, including all necessary communications with the defendant and any interested parties.
We will keep you informed
The firm will handle all court applications and proceedings to ensure your personal, head or brain injury claim is successful.
Gert Nel Inc works closely with medical professionals who are at the forefront of their field, ensuring that all medical evidence is rigorously analysed.
While the firm is committed to establishing all the facts in a scientific and consistent manner, they are exceptionally accommodating on a personal level.
Gert Nel Inc is well versed in medical negligence claims and understand the psychological stress it can induce, thus, the firm maintains a client's comfort as the highest priority. The firm allies itself to the values of integrity and honesty, never hiding any terms and conditions from their clients.
Gert Nel Attorneys – Medical Negligence Claim
Claim Type

Medical Negligence Claims
Benefits of Gert Nel Attorneys
PERSONAL Claims
DOG-BITE Claims
MEDICAL Negligence
---
Gert Nel Inc - We aim for the most positive outcome
When you have suffered as a result of the negligence or malpractice of a medical professional, the initial shock often overrides all other faculties of your mind.
Initially your primary goal is to heal any injuries incurred, however, it is not always as simple as that. Medical negligence claims can be complicated and technical and the compensatory packages are only paid out after the case is finalised.
Claiming for medical negligence
This means that if you are unable to pay for the medical treatment required to heal the complications arising out of negligence, you will be unable to receive the necessary treatment until you have launched and concluded a claim.
It is for this reason that you must contact your legal team as soon as possible in order to avoid any lapse in evidence as well as unwanted delays in the monetary compensation.
When contacting Gert Nel Inc. you will be directed to the medical negligence department who will assess your case and advise you on your best course of action for you to claim for compensation. When considering a case, Gert Nel Inc. will establish only the facts of the matter and relevant witness testimony, not allowing for any blurring of the evidence. After consulting with the necessary professionals, the firm will advise you on what to expect from the case, what could be achieved in terms of monetary compensation and how the process will unfold.
The beginning of any head, brain or even anaesthesia death claim is always marked by a differing medical evaluation of a patient by another medical professional. Following this, the circumstances surrounding the reasons for a differing diagnosis are considered by the medical practitioner and she may conclude that the injuries are the result of negligence or malpractice. Doctors may be unwilling to 'turn on their own' and so it is vital that you consult with experts in medico-law who can accurately assess the causal chain involved leading up to the complications.
Gert Nel Inc. provides their clients with legal services of the highest calibre and works ceaselessly to ensure the best outcome for their clients.
Gert Nel Attorneys Contact
Contact Number
E-Mail
Website
Physical Address
1235 Cobham Road, Queenswood

Pretoria

Gauteng

0186

South Africa
---
Postal Address
PO Box 11614, Queenswood, 0121, South Africa
Opening Hours
Monday

08:00 – 16:30

Tuesday

08:00 – 16:30

Wednesday

08:00 – 16:30

Thursday

08:00 – 16:30

Friday

08:00 – 16:30

Saturday

– CLOSED

Sunday

– CLOSED