Malcolm Lyons & Brivik Attorneys
Leaders in personal injury claims
Efficient investigation
Securing fair compensation
In-page navigation
---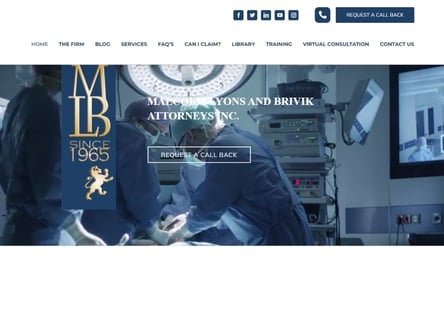 Author Malcolm Lyons & Brivik Attorneys. Screenshot of Malcolm Lyons & Brivik Attorneys website.


[Accessed March 30, 2023]
Malcolm Lyons & Brivik - Effective legal solutions
Founded almost half a century ago, Malcolm Lyons & Brivik Inc. Attorneys was the first law firm in South Africa to specialise in personal injury claims.
Recognised as leaders in their field, Malcolm Lyons and Brivik Inc. have a reputation for securing high, but fair, sums of compensation for their clients who have been victims of medical negligence and malpractice.
A reputable law firm
The firm has led the industry and influenced high profile historic legal decisions with our legal experts. The firm is made up of 6 lawyers and 2 candidates, additionally, the firm is connected with firms in Europe and America, allowing for smooth proceedings of international cases.
The firm's attorneys frequently attend conferences and workshops aimed at exploring medico-law, ensuring that they are aware of the current laws as well as innovative research pertaining to medical negligence claims. The firm is well known in the industry for providing efficient and effective legal services.
We advocates fairness and transparency
Specialising in medico-law, Malcolm Lyons & Brivik Inc offer exhaustive legal services for medical negligence claims. The firm advocates fairness and the transparency of the process.
We will keep you informed
They will inform you of any documents that will be required and explain to you what will be expected from you. The firm will request your medical records and interview any witnesses relevant to the case on your behalf.
Additionally, the firm will provide their own expert witnesses to testify in your case, if the need be. When employing the services of Malcolm Lyons & Brivik Inc, an exhaustive and thorough investigation is conducted.
Consulting with the appropriate medical professionals, the firm will form your case based on the evidence discovered. The firm undertakes to investigate any personal injury claim once it is instituted.
Malcolm Lyons & Brivik Attorneys – Medical Negligence Claim
Claim Type

Medical Negligence Claims
Benefits of Malcolm Lyons & Brivik Attorneys
ACCIDENT
ANIMAL Bites
AVIATION Accidents
BICYCLE Accident
BIRTH Injury
BRAIN Injury
BURN Injuries
CONSTRUCTION Accidents
MEDICAL Negligence
SEXUAL Harassment
SURGICAL Errors
---
Malcolm Lyons & Brivik - High standards of practice
When you suspect that you have been a victim of medical negligence or malpractice, you should immediately contact Malcolm Lyons & Brivik Inc.
You will also need to consult another medical practitioner for a second opinion on your injuries, to establish the possible causes. Ensure that you see a practitioner that is recognised by your lawyer and the Health Council of South Africa as a proficient practitioner.
While instigating any case as soon as possible is in your favour, you must not leap to any conclusions. Medical malpractice claims are complicated affairs, relying on scientific analysis conducted by experts.
Contact us
However the sooner you contact a legal advisor, the sooner the case can be investigated, which will improve the chances of achieving a head or brain injury claim for the injuries you've sustained. When you seek medical treatment, you formally enter into a contractual relationship with the medical practitioner, either via the signing of consent forms or through verbal confirmation.
In cases of severe injury where the risk of fatality is high and the time frame narrow, the doctor does not need direct consent from the patient, however, she will still be subject to the laws governing medical practice. Medical negligence and malpractice claims are instigated when complications arise post-treatment and could have been reasonably foreseen and avoided by another practitioner.
You must understand the process of making a claim prior to proceeding with legal force. As valid as a claim may appear, the complexities of medical treatment, as well as any possible relevant variables, means that the case must be assessed by trained professionals in medicine and law. Malcolm Lyons & Brivik Inc is a firm that commits itself wholeheartedly to their clients, pursuing only the highest standard of practice and service.
We will represent you
The firm will argue your case in court and if the need dictates, challenge the defendant on her account of events. You may have to testify in person, in which case Malcolm Lyons & Brivik Inc will walk you through the details of the upcoming appearance and help you prepare mentally and emotionally for the testimony.
When the case is concluded, a ruling will be made, and your lawyer will propose a compensatory figure that she deems adequate. The sum is usually calculated by financial and medical experts, considering all the factors for which compensation is owed.
Malcolm Lyons & Brivik Attorneys Contact
Contact Number
E-Mail
Website
Physical Address
3 St Georges Mall, Cape Town City Centre

Cape Town

Western Cape

8001

South Africa