20 Years' unparalleled service
Capable and effective legal advice
Honest and fair mediation
In-page navigation
---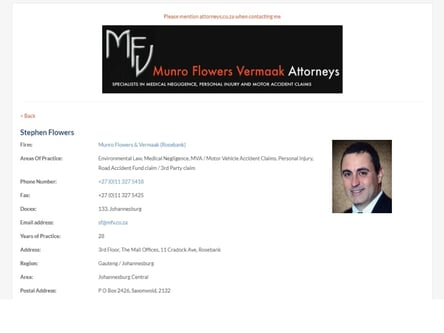 Author Munro Flowers & Vermaak. Screenshot of Munro Flowers & Vermaak website.


[Accessed March 30, 2023]
Munro Flowers & Vermaak - Effective legal actions
Munro Flowers & Vermaak is a law firm that has been providing South Africans with unparalleled services for 20 years. Offering specialised services in personal injury claims, Munro Flowers & Vermaak is a capable and effective firm.
Advice based on experience
The firm is well known for their medical negligence and malpractice work, resolving cases quickly and securing a desirable outcome.
Providing personal and accessible legal representation is of utmost importance for Munro Flowers & Vermaak.
Representing clients across South Africa, the firm has a record of experience-based advice in multiple fields of law.
Offering specialised services, including medical negligence claims, the firm is committed to practice nobly, and take it as their responsibility to be honest and fair to clients, always acting in the best interest of the client.
Expert legal services in medical negligence
Munro Flowers & Vermaak offer expert legal services in medical negligence and malpractice.
The firm investigates you claim and advises you on the best option for your needs. Not every claim is a worthwhile a legal pursuit, and you must consult with a legal expert before making your claim.
We build lasting relationships
Communication with the defendant and their legal team is also necessary, and Munro Flowers & Vermaak will accommodate and provide mediation for all communications in an agreeable but assertive manner.
The firm provides services for the entire process of the claim and will inform you of all the necessary paperwork and documents needed for court action. Munro Flowers & Vermaak has a wide network of medical professionals with whom they consult on a daily basis.
The firm is dedicated to creating lasting relationships with their clients, Munro Flowers & Vermaak attorneys are with armed a wealth of experience, proving them one of the best choices in law firms for medical malpractice claims.
Munro Flowers & Vermaak – Medical Negligence Claim
Claim Type

Medical Negligence Claims
Benefits of Munro Flowers & Vermaak
THIRD-PARTY Claims
ENVIRONMENTAL Law
MEDICAL Negligence
MVA Claims
PERSONAL Injury
---
Munro Flowers & Vermaak - Effective negotiation skills
Medical negligence and malpractice claims are launched when complications present after medical treatment, that could have been reasonably foreseen, and avoided by another practitioner.
You must research the process of claiming prior to proceeding with legal force. As soon as you suspect you have been a victim of medical negligence or malpractice, you should contact the firm.
Munro Flowers & Vermaak has the necessary contacts with specialist medical practitioners who, if you have already consulted a second opinion, will acquire the records and scrutinise them.
Experts on your side
If the case is then found to be valid, Munro Flowers & Vermaak will begin the legal proceedings for the claim. The first thing the firm will do is request all the relevant evidence from the parties involved in order to form a coherent analysis of the case. We can also assist with anaesthesia death claims as well as most liability claims.
Following the contacting of the defendant and courts, Munro Flowers & Vermaak will interview all the relevant witnesses and record their testimonies. Munro Flowers & Vermaak attorneys present a cohesive argument in the strongest possible form, allowing for no room for surprises.
We will represent you
In the event that the case must be presented in court, the firm will organise the necessary documents for proceeding with a trial, advise you on your case before proceeding with legal action and do their best to secure a desirable outcome.
The firm is proud to provide only honest and in-depth legal representation and will handle the entire process of any medical negligence claim. When the case has ended, and the ruling is made Munro Flowers & Vermaak will calculate and propose a compensatory figure that the firm deems adequate.
Some lawyers might try to claim excessive amounts in order to increase their fee, sometimes at the risk of the case, but Munro Flowers & Vermaak does not seek unlikely sums and always maintains their continuous transparency and honesty.
The firm ensures that you understand the 'ins-and-outs' of the case and without any confusion, so you can comprehend the technical details. Whether you're looking to make a head injury claim, a traumatic brain injury claim or any other liability claim related to any medical treatment or procedure, we can assist you.
Munro Flowers & Vermaak Contact
Contact Number
E-Mail
Website
Physical Address
3rd Floor, The Mall Offices, 11 Cradock Ave, Rosebank

Johannesburg

Gauteng

2196

South Africa
---
Postal Address
P O Box 2426, Saxonwold, 2132, South Africa