Paul du Plessis Attorneys
Legal guidance throughout claim
High success rate
'No win, no fee'
In-page navigation
---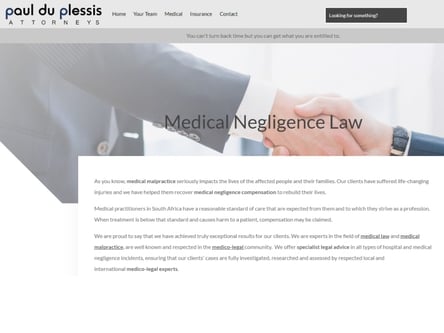 Author Paul du Plessis Attorneys. Screenshot of Paul du Plessis Attorneys website.


[Accessed March 30, 2023]
Paul du Plessis Attorneys - in-depth legal knowledge
Paul du Plessis Attorneys is a law firm based in Lombard, Pretoria. The firm is committed to providing their clients with medico-legal advice regarding medical malpractice claims.
Their reputation of a high success rate is due to their experience, in-depth legal knowledge and empathy towards clients; Paul du Plessis Attorneys will strive to help you recover physically, emotionally and financially from medical negligence and malpractice.
Contact us
The firm is amply connected, allowing them to assist with claims from across the country. The monetary cost of recovering from a medical negligence can cripple the finances of a family.
Aware of this, Paul du Plessis Attorneys offer services on a 'no win, no fee' contingency in the case that a satisfactory solution cannot be resolved.
If you have been seriously injured in a motor vehicle accident and want assistance in claiming against medical negligence and malpractice or making a motor vehicle accident claim, contact Paul du Plessis attorneys using the contact details below.
High quality legal & medical expertise
Paul du Plessis Attorneys aims to guide its clients through the legalities of claiming, providing them with high quality legal and medical expertise along with efficient, professional and friendly service.
We will keep you informed
The firm has an 'open file' policy, allowing claimants access to their file at any time.
The claimant is entitled to be updated on the progress of the case as much as they would like.
In cases of medical negligence claims, communication between lawyers and clients is vital in ensuring the facts are uncovered.
The sooner you contact your legal advisor, the sooner your case can be investigated, which will improve the chances of its success.
Paul du Plessis Attorneys will be ready to begin investigating your claim as soon as you report it and apply for compensation with the assistance of our legal experts.
Paul du Plessis Attorneys – Medical Negligence Claim
Claim Type

Medical Negligence Claims
Benefits of Paul du Plessis Attorneys
MEDICAL Negligence
PERSONAL Injury
ROAD Accident Fund Claims
BIRTH Injury
BRAIN Damage
---
Paul du Plessis - We are the experts
In order to prove a medical negligence and malpractice claim, you will need to show that the medical practitioner was in some way negligent, signifying that the injuries could otherwise have been avoided had another medical practitioner been treating the patient.
The claim process is complicated and can be confusing, which is why it is important to consult an expert, such as those at Paul du Plessis Attorneys.
Expert medical testimonies
With the mountain of medical and scientific evidence that needs to be assessed, your claim cannot be successful if you do not have the services of experts. Further, the extent of malpractice can be as wide as ethical misconduct, whereby a medical professional acts in a way that may affect the patient negatively, but beyond simple physical injury.
Ethical medical malpractice can include actions such as the failure to disclose information from a medical practitioner, the failure to gain consent as well as any action which is not in the best interest of the patient. We are able to assist with any personal injury claim or medical malpractice claims with the expertise and professionalism we have become so well known for.
If your case is to be argued in court, the firm will present your case strategically and smoothly, resting on their own specialist investigative efforts. If the defendant decides to settle the claim out of court, the firm will calculate and propose a compensatory sum as well as help the resolve the finer details of the payment.
Ultimately, if you are looking for an airtight case to be asserted for your medical malpractice or loss of income claim, Paul du Plessis can definitely provide you with peace of mind when embarking on your claim.
Paul du Plessis Attorneys Contact
Contact Number
E-Mail
Website
Physical Address
Unit 29 Lombardy business park, Graham road corner Cole road

Silverlakes

Pretoria

0084

South Africa
Opening Hours
Monday

07:30 – 16:00

Tuesday

07:30 – 16:00

Wednesday

07:30 – 16:00

Thursday

07:30 – 16:00

Friday

07:30 – 16:00

Saturday

– CLOSED

Sunday

– CLOSED