Medical expert analysis
Securing the best outcome
Upholding highest code of ethics
In-page navigation
---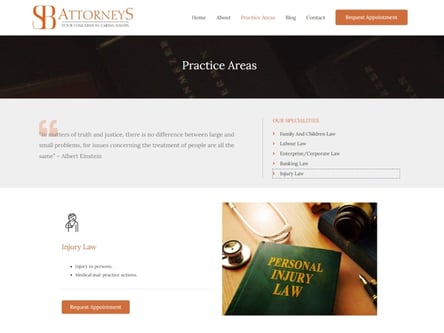 Author Schoeman & Associates. Screenshot of Schoeman & Associates website.


[Accessed March 30, 2023]
Schoeman & Associates - Committed to upholding ethics
Schoeman & Associates is a Gauteng based law firm that provides clients with superior expert legal services at affordable fees.
Committed to remaining honest and upholding the highest code of ethics, Schoeman & Associates is sure to handle your case with integrity and efficacy.
Legal experts on your side
The firm is proudly associated with The Association of Pretoria Attorneys, as well as the Christian Lawyers Association. Schoeman & Associates underwrite the ethical codes for both these associations and is well experienced in medical negligence claims.
Specialising in multiple areas of law, the firm is able to provide expert services relating to medical negligence claims, including medical expert analysis and subsequent testimony.
Quality legal representation
With the appropriate experience and training, Schoeman & Associates will provide high-quality legal representation, while maintaining the utmost integrity.
We aim to secure the best outcome
The firm is devoted to forming a strong relationship with their clients and will fight viciously for your medical negligence claim.
Despite their dedication to your case, they will not make you feel uncomfortable or uneasy.
Their fierce methods will never result out of dishonesty or malice, but rather a vigorous dedication to securing the best outcome for your case.
Schoeman & Associates – Medical Negligence Claim
Claim Type

Medical Negligence Claims
Benefits of Schoeman & Associates
MEDICAL Negligence Claims
---
Schoeman & Associates - Contact us immediately after an incident
When you have suspected medical negligence and malpractice, it is important to first consult another medical practitioner for a second opinion on your injuries.
When the practitioner examines you and deems your injuries a result of negligence and malpractice, you must then contact a legal representative.
Contact us
The haste of any medically related claim is vital to ensure its' success, however, bear in mind that these cases rely on extremely complicated evidence and circumstances.
Schoeman & Associates can provide the medical experts necessary for your medical negligence claim, and they will facilitate the entire process. If the case ends up going to trial, the firm will argue your case in front of the Judge and accommodate any administration that follows.
Your claim is always handled with discretion and care, keeping you as the client, the top priority.
The firm will advise you on the best course of action for your claim, as not all claims are viable, or need to be settled in court. You should contact Schoeman & Associates as soon as possible if you want to make a claim against medical negligence and malpractice.
Schoeman & Associates Contact
Contact Number
E-Mail
Website
Physical Address
1001 Justice Mahomed Street

Brooklyn

Pretotria

0181

South Africa
Opening Hours
Monday

08:00 – 17:00

Tuesday

08:00 – 17:00

Wednesday

08:00 – 17:00

Thursday

08:00 – 17:00

Friday

08:00 – 17:00

Saturday

– CLOSED

Sunday

– CLOSED