Legal and medical experts
Commitment to solving problems
Effective in malpractice claims
In-page navigation
---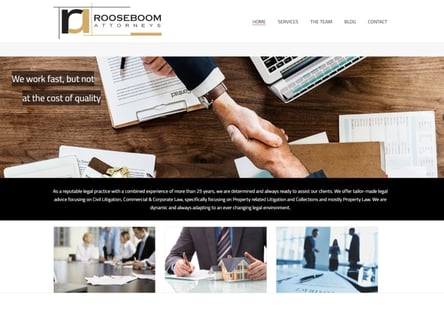 Author Rooseboom Attorneys. Screenshot of Rooseboom Attorneys website.


[Accessed March 30, 2023]
Rooseboom Attorneys - Quality legal representation
A well established, dynamic law firm that always strives to provide excellent legal services for those suffering from medical negligence and malpractice.
The firm aims to secure the best outcome for their clients' case and provide consistent and informative information. The firm offers professional, friendly legal service while remaining assertive and effective in all medical malpractice claims.
Legal and medical experts
The firm is committed to adding value, solving social problems relating to unfair medical treatment and boost their reputation of supreme quality service even higher.
Their mission is to mix their legal experts with the strengths of their staff and other medical partners in the industry to provide services in the best interest of their clients and the public in general.
Aiming to maintain lasting relationships with clients, Roseboom Attorneys will service their clients with high-class legal representation.
We consult medical professionals
Specialising in medico-law, Rooseboom Attorneys offer legal services for all medical negligence claims. The firm is a proponent fairness and honesty during the process of the claim.
We will guide you through the process
The firm informs you of any requirements and explains to you what will be expected from your side when making a claim.
The firm will request your medical records and gather any witnesses testimony relevant to the case.
Further, the firm will provide their own expert witnesses to testify in your case, to outline the parameter of the negligence.
When entrusting your case to Rooseboom Attorneys, an exhaustive investigation is conducted, leaving no evidence to speculation.
Consulting with the appropriate medical professionals, the firm will form your case based on only the evidence discovered.
Rooseboom Attorneys – Medical Negligence Claim
Claim Type

Medical Negligence Claims
Benefits of Rooseboom Attorneys
CIVIL Litigation
MEDICAL Negligence And Malpractice Claims
---
Rooseboom Attorney - the best option
The complexity of medical negligence claims means that the utmost care must be taken when proceeding with the case.
Avoid embarking on your own investigations or communications, Rooseboom Attorney provides highly trained mediators and professionals to handle these cases.
The most desirable outcome of any claim against medical negligence or malpractice is an out of court settlement, obtained with as little aggression and complication as possible.
Assured expert advice
Rooseboom Attorneys specialise in providing exactly these results for their clients. Part of Conflict Dynamics' practise is to coordinate the necessary communication with any witnesses and incorporate them in the mediation process.
When dealing with Rooseboom Attorneys, you have assured expert advice based on experiential evidence. Dedicated to providing clients with the tools to mediate and deal with future disputes, we will equip their clients with the ability to learn and grow during the process.
Rooseboom Attorneys Contact
Contact Number
E-Mail
Website
Physical Address
151 Wilson Street, Northcliff

Johannesburg

Gauteng

2195

South Africa
---
Postal Address
P.O. Box 731089, Fairland, 2030, South Africa
Opening Hours
Monday

08:00 – 16:30

Tuesday

08:00 – 16:30

Wednesday

08:00 – 16:30

Thursday

08:00 – 16:30

Friday

08:00 – 16:30

Saturday

– CLOSED

Sunday

– CLOSED