Ronald Bobroff & Partners
Specialist services since 1974
President of SAAPIL
Premium medico-law
In-page navigation
---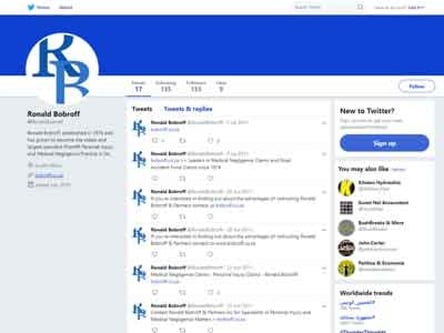 Author Ronald Bobroff & Partners. Screenshot of Ronald Bobroff & Partners website.


[Accessed April 5, 2023]
Ronald Bobroff & Partners - We specialise in medical negligence
Ronald Bobroff & Partners Inc is a premier medico-legal Practice started in 1974. Since then, it has expanded and grown to become one of South Africa's most well-respected law firms specialising in medical negligence claims.
Innovative legal solutions
Founder, Ronald Bobroff, used to be the President of the Law Society, is currently the President of SAAPIL, and has been the chairman of many local and provincial law councils.
He is a guest lecturer at the University of the Witwatersrand Medical School on a part-time basis.
The firm provides some of the most innovative and specialist legal services and attorneys in the country.
We can assist with medical malpractice claims, personal injury claims as well as motor vehicle accident claims and a range of product and public liability claims.
We will guide you through the claims process
The firm specialises in medical malpractice claims, due to the complexity of medical negligence cases, a client often finds themselves confused and unsure of the proceedings.
Claiming against a practitioner
When laying a claim of medical negligence and malpractice, you will need the advice and testimony of experts in the fields of medicine and law.
Often cases require specialist medical practitioners opinion, especially relating to the defendant's actions.
If it can be proved that you were inflicted with injuries, due to the negligence of a medical practitioner, you are entitled to lay a medical negligence claim against the practitioner.
Ronald Bobroff & Partners Inc. will guide you through the proceedings as well as argue your case before a judge.
Ronald Bobroff & Partners – Medical Negligence Claim
Claim Type

Medical Negligence Claims
Benefits of Ronald Bobroff & Partners
MEDICAL Negligence
ROAD Accident Fund
MOTOR Vehicle Accidents
MOTORCYCLE Accidents
LOSS Of Support Claims
SLIP & Fall Claims
DOG Bite Claims
PUBLIC Liability Claims
PRODUCT Liability Claims
BOATING & Rail Accidents
PERSONAL Injury
DIVORCE & Family Law Matters
---
Ronald Bobroff & Partners - A board of legal and medical experts
Starting any claim for compensation is a daunting task and a consultation with another medical practitioner for a second opinion on your injuries is necessary.
Providing that your injuries are then suspected to be a result of negligence or malpractice, a case should be launched immediately. You must also contact a legal representative or firm for further advice on how to instigate your claim.
Contact us shortly after the incident
Make contact with your lawyer as soon as possible so the case can be investigated, and the possibility of success improved. Beginning any case as soon as possible is important for securing a desirable outcome, but don't jump to any rash conclusions or decisions. Medical negligence claims rely on the scientific method of analysis, which must be done by the appropriate experts.
Medical negligence and malpractice also extend further than just physical injury, malpractice includes the abuse of ethical responsibilities. To win a case against medical negligence and malpractice you will need to show the Judge that the medical practitioner was in some way negligent or irresponsible, signifying that the injuries could have been avoided had another medical practitioner been treating the patient. We can also assist with achieving a loss of support claim as well as additional compensation depending on the case.
Ronald Bobroff & Partners Inc has attorneys who specialise in ethics, medical practice and law, making them a perfect choice for legal representation. Ronald Bobroff & Partners Inc will inform you of all the requirements and your personal responsibility in the case as well as ensure that you understand exactly what is going on and what is expected. The firm is committed to ethical practice and will treat you with the utmost respect and handle your case with integrity.
Ronald Bobroff & Partners Contact
Contact Number
E-Mail
Website
Physical Address
37 Ashford Road, Parkwood

Johannesburg

Gauteng

2193

South Africa
---
Postal Address
P O Box 1170, Parklands, Johannesburg, 2121, South Africa