Michael de Broglio Attorneys
Affordable and effective
Experts in medico-law
High success rates
In-page navigation
---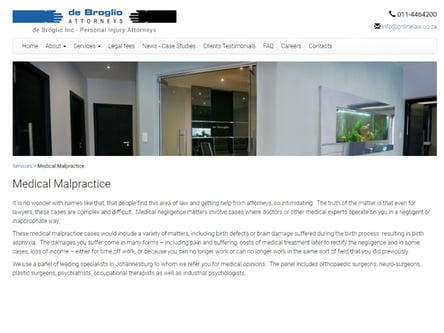 Author Michael de Broglio Attorneys. Screenshot of Michael de Broglio Attorneys website.


[Accessed March 30, 2023]
de Broglio Attorneys - affordable and effective legal services
Boasting an impressive professional team, de Broglio Attorneys has built a sturdy reputation for providing exceptional legal services.
Offering expertise in particular areas of law, including personal injury matters such as medical negligence cases, de Broglio Attorneys offers affordable and effective legal services.
A comfortable and friendly environment
The services de Broglio Attorneys offers are combined with their incorporation of technology in investigating your medical negligence claim. This means that de Broglio Attorneys offer cutting-edge methods of investigation and analysis, resulting in high success rates.
The firm has an informative website that provides a wide range of articles relevant to medical negligence and malpractice claims, allowing for clients to inform themselves prior to embarking on a claim.
In turn, this means that as a client you will be well aware of the proceedings, leaving no room for misunderstanding. Situated in Parkwood, Johannesburg, with weekly office hours from 8:30 am to 5 pm.
We are legal professionals
Personal injury caused by medical negligence and malpractice is more difficult to prove than other obvious cases such as head and brain injury claims. Due to the complex and thorough investigations that need to be conducted, your case must be assessed and handled by experts in medico-law.
We consult legal experts
This is a field in which De Broglio Attorneys' excels and in these cases, you need as much help as possible. The case may face outright denials or lack of evidence, in other instances, the parameters of injury and/or negligent action may not be easily defined.
It is for precisely these reasons that it is important to consult with legal experts trained in medico-law. As a client, you want to be able to rely on your attorney for direction and analysis, as you may not have the contacts, skills or training yourself.
De Broglio Attorneys works with trained medical experts required for investigating and substantiating your claim. When launching a claim of medical negligence and malpractice, you want professionals with a proven track record, de Broglio Attorneys fit the bill and cover all the necessary legal work.
Michael de Broglio Attorneys – Medical Negligence Claim
Claim Type

Medical Negligence Claims
Benefits of Michael de Broglio Attorneys
MOTOR Accidents
ROAD Accident Fund
MEDICAL Negligence
DIVORCE
---
De Broglio Attorneys understands the stress a claimant has
When you have been a victim of medical negligence and malpractice, the last thing you want to have to do is oversee a legal case.
De Broglio Attorneys understands the stress a claimant is under when instigating a claim, as often it is a last resort measure. As a result, de Broglio Attorneys of comprehensive legal services, designed around your individual needs.
The investigative work that needs to be conducted for a medical negligence claim is very technical and requires an in-depth understanding of the particular medical case and causes.
We will consult medical experts
In lieu of this, de Broglio Attorneys will consult with the relevant medical experts when reviewing and subsequently investigating your case., at no point will you be required to perform any investigative work.
The entire claims procedure will be dealt with by your lawyer, and if required, she will prepare you for any testimony appearances. The faster you make contact with a lawyer, the sooner the case can be documented and launched, improving the possibility of a desirable outcome. When you undergo medical treatment, you enter into contractual relationships with practitioners.
A claim for compensation
Via the signing of consent forms or through verbal confirmation, you are required to provide consent for any treatment. Where injuries raise the risk of fatality and the patient is unable to give consent, the doctor can request consent from a relative or loved one. You must remember that the process of making a claim is lengthy and involved.
As valid as a claim may be, medical treatment is exceptionally complex and proving negligence is tricky. You must consult with the appropriate professionals, such as de Broglio Attorneys, before attempting to instigate any medical malpractice claim for compensation. de Broglio Attorneys will consider the evidence gathered including any possible relevant variables, and form a coherent and sound argument for your personal injury claim.
This will then be put forward to the defendant for an opportunity to settle the matter out of court. If the defendant chooses to defend the claim in front of a Judge, the case will then go to trial as any other case. The process will be arranged through and by de Broglio Attorneys, who will also provide the necessary expert witnesses. Ultimately, if you are looking for a watertight case to be presented for your claim, de Broglio Attorneys can definitely provide you with peace of mind.
Michael de Broglio Attorneys Contact
Contact Number
E-Mail
Website
Physical Address
127 Jan Smuts Avenue, Parkwood

Johannesburg

Gauteng

2196

South Africa
---
Postal Address
P.O. Box 2013, Parklands, 2121, South Africa
Opening Hours
Monday

08:30 – 17:00

Tuesday

08:30 – 17:00

Wednesday

08:30 – 17:00

Thursday

08:30 – 17:00

Friday

08:30 – 17:00

Saturday

– Closed

Sunday

– Closed