Specialises in medico-law
Ethical legal practice
Insurance claims
In-page navigation
---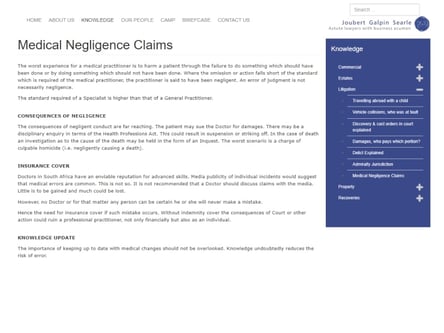 Author Joubert Galpin Searle. Screenshot of Joubert Galpin Searle website.


[Accessed March 30, 2023]
Joubert Galpin Searle - comprehensive legal support
Joubert Galpin Searle is a law firm that provides comprehensive legal support for anyone involved in a medical negligence and malpractice case.
This service includes insurance for medical practitioners, so that if in the event that a claim is made against them, they will have access to legal representation and personal, brain and head injury compensation cover.
Dedicated to delivering an excellent service
Joubert Galpin Searle is a company that is devoted to integrity and excellence when taking a new case, whether, for the defendant or claimant, Joubert Galpin Searle will work tirelessly to explore all the possibilities and evidence.
Not all medical malpractice claims are viable and Joubert Galpin Searle will not extend the case beyond a reasonable point in an attempt to secure ongoing services.
Rather, in line with their values, Joubert Galpin Searle will provide their clients with expert advice and assistance, without pursuing exorbitant fees for themselves.
We provide great customer care
Joubert Galpin Searle is a firm that specialises in medico-law, offering comprehensive legal services for medical negligence claims.
The firm actively ensures the transparency of the process and offer clients understandable and informative advice.
Documentation for claiming compensation
Joubert Galpin Searle will inform you of the necessary documents as well as what will be expected from you, as the claimant.
The firm will request your medical records and interview any witnesses relevant to the case.
With years of experience, the firm has grown into a well established and respected company.
An unmissable trait of Joubert Galpin Searle is their adherence to the highest level of ethical practice.
Providing services that will accommodate your needs, Joubert Galpin Searle will handle your personal injury claim from the start of the investigation.
Joubert Galpin Searle – Medical Negligence Claim
Claim Type

Medical Negligence Claims
Benefits of Joubert Galpin Searle
MEDICAL Negligence Claims
---
Joubert Galpin Searle - We will keep you informed
When laying a claim of medical negligence and malpractice, the first step is to consult with experts in medico-law. Joubert Galpin Searle has attorneys who specialise in medico-law and are more than capable of assessing and advising you on your case.
Always meet with your legal representative in person if you can, but Joubert Galpin Searle keeps you updated on the progress of the claim, as well as any changes or predicted challenges, as they arise.
We will guide you through the process
While remaining actively involved in your case is important, let your lawyer handle and oversee all communications with the defendant and any relevant parties.
It is unwise to try to provide extra evidence or testimony you think is important and embarking on your own investigations is not recommended - your lawyer is a highly trained individual who has spent years specialising in these kinds of cases, and will decide on the relevant evidence.
Joubert Galpin Searle aims to outline your case in the clearest form possible, founded in factual and scientific evidence. The firm will ensure you understand the case in its' entirety and without any confusion, allowing for you to comprehend the technical details. We can assist with traumatic brain injury claims as well as head and brain injury claims.
If the case is referred to a court, the firm will present your case vehemently and rationally, relying on their own investigative efforts. If the defendant decides to settle the claim out of court, Joubert Galpin Searle will facilitate the calculation of proposed compensatory sum as well as the arrange the finer details of the payment.
Although the prospect of a legal case is daunting, Joubert Galpin Searle will inform you of all the requirements and your personal responsibility in the case.
If you believe you have been a victim of medical negligence and malpractice, Joubert Galpin Searle are ready to accommodate your individual's needs. Treating clients with utmost respect, Joubert Galpin Searle has proved itself as an effective legal force with outstanding client relationships.
Joubert Galpin Searle Contact
Contact Number
E-Mail
Website
Physical Address
173 Cape Rd, Glendinningvale

Port Elizabeth

Eastern Cape

6001

South Africa
---
Postal Address
PO Box 59 Mill Park, Port Elizabeth, 6000, South Africa
Opening Hours
Monday

08:30 – 16:30

Tuesday

08:30 – 16:30

Wednesday

08:30 – 16:30

Thursday

08:30 – 16:30

Friday

08:30 – 16:30

Saturday

– CLOSED

Sunday

– CLOSED