Initiating and litigating claims
Dedicated to clients
Winning complex cases
In-page navigation
---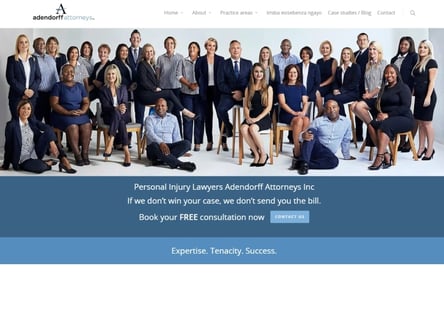 Author Adendorff Attorneys. Screenshot of Adendorff Attorneys website.


[Accessed April 3, 2023]
Adendorff Attorneys - dedicated to our clients
We are proud of our success record and of the fact that we build long-term relationships with our clients who appreciate our dedication and commitment to providing a legal service of high quality.
At Adendorff Attorneys, we have a team of lawyers who are experienced and hard-working. We operate in two main areas of speciality - personal injury claims and vehicle accident claims.
We have an excellent reputation
We have earned an excellent reputation for winning complex cases and high product liability compensation awards. We work not only with South Africans but with foreign nationals who got injured during their stay in the country.
In order to deliver the best service to our clients, we work with renowned local and international specialists in medicine and business. Our resources enable us to achieve a high level of efficiency and achievement. You can have complete confidence in our ability to represent your claim. Our service has a "no win - no fee" structure.
We specialise in initiating and litigating product liability claims
When we use various products in our daily life, we expect them to be perfectly safe. However, this is not always the case. The use of defective products can cause bodily harm and property damage.
At Adendorff Attorneys, we specialise in initiating and litigating product liability claims on behalf of South Africans who have got injured as a result of using a defective product.
We will start by investigating your case
We will identify the legal theory under which you have the right to claim compensation. We will also identify the party who is responsible for your injury.
We believe that you should be fully compensated for medical bills, lost income and benefits and the pain and suffering that you have been through in the case of personal injury claims. Furthermore, the manufacturer must be held responsible for making products which do not meet safety standards. Contact us to tell us about your case and we will take the necessary action to defend your rights.
Adendorff Attorneys – Product Liability Claim
Claim Type

Product Liability Claims
Benefits of Adendorff Attorneys
TRAIN Accidents
MEDICAL Negligence / Birth Injuries
SLIP And Fall Accidents
POLICE Unlawful Arrest / Detention & Assault
PRODUCT Liability / Defective Products
DOG Bites
BURN Injuries
SPINAL Cord Injuries
HEAD And Brain Injuries
---
Adendorff Attorneys - With you all the way
Public liability claims are increasing in a number of areas such as public transport areas, buildings, shopping malls roads – basically anywhere that an individual has access to a public area which is protected by an owner.
We make sure that you have a valid claim. We will be able to tell you if your claim is valid or not.
Clients can claim compensation against the owner for:
Negligence of a public area/property
Medical costs
Pain and suffering
Adendorff Attorneys Contact
Contact Number
E-Mail
Website
Physical Address
2nd Floor Tyger Valley Chambers Three, 27 Willie van Schoor Drive (Durban Road)

Bellville

Cape Town

7536

South Africa
---
Postal Address
PO Box 4034 Tyger Valley, Pretoria, 7536, South Africa